FTSE 100 lifted by upbeat Shell outlook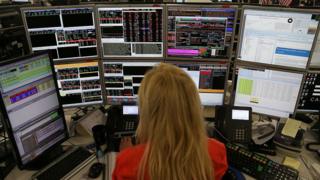 Royal Dutch Shell lifted the UK market after the oil giant signalled a stronger financial footing with the return of all-cash dividends.
Shell said it was ending its scrip dividend programme, under which payouts can be made in shares instead of cash.
The scheme had been introduced in 2015 to help save cash as oil prices - which had been above $100 a barrel - halved.
Shell's shares closed up 4% as it also raised its cash flow estimate to $30bn from $25bn by 2020.
Royal Dutch Shell was the biggest riser on the FTSE 100, with the index closing up 76.75 points at 7460.65.
EasyJet was boosted by a couple of broker upgrades. Shares in the airline rose 1.7% after it was upgraded to "hold" by Societe Generale, while Kepler Cheuvreux lifted its rating on the firm to "buy".
In the FTSE 250, shares in Ocado jumped 21% after the online grocer announced a long-awaited international partnership.
The company has signed a deal with Groupe Casino that will see the French supermarket giant use Ocado's e-commerce technology in its own online business.
Ocado will also build a warehouse to serve the Greater Paris area, and the Normandie and Hauts de France regions.
On the currency markets, the pound fell 0.21% against the dollar to $1.3347 and slipped 0.54% against the euro to €1.1254.