Archers 'fraud' storyline praised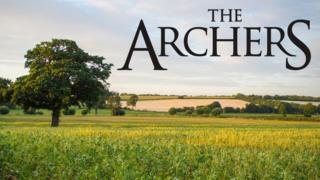 Anti-fraud campaigners have praised a partnership between two BBC Radio 4 programmes for drawing attention to one of the UK's fastest growing crimes.
For months a number of The Archers' characters have been caught up in an elaborate investment fraud.
Archers editor Huw Kennair-Jones has now revealed that the station's consumer programme You and Yours worked closely with scriptwriters on the plot.
Action Fraud said the storyline had raised vital awareness of the issue.
"We would like to thank The Archers and You and Yours for bringing attention to this important subject," said a spokesperson.
Read more: The Archers website explains the Melling Investment Fraud in a Q&A with You and Yours reporter Shari Vahl
The last Archers' storyline to draw praise from campaigners was the domestic abuse of Helen Archer by former husband Rob Titchener.
This year the soap has tackled another rapidly rising crime.
According to the annual Crime Survey for England and Wales there were an estimated 3.6 million cases of fraud last year, making it the most commonly experienced offence.
'12% returns'
Police say investment scams are a costly and often under reported form of fraud.
Earlier this year several of the soap's unsuspecting residents were given a presentation by fraudsters, Melling Equestrian Investments.
The scam involved a love-triangle between husband and wife-to-be Justin Elliott and Lilian Bellamy, and old flame and conman Matt Crawford.
Among the scam's victims were widowed pensioner Christine Barford, who was revealed on Friday to have invested more than £300,000.
She had been persuaded to invest by the promise of 12% returns on a fictitious racecourse development in Costa Rica.
'Partnership'
In an interview with You and Yours, Huw Kennair-Jones, explained how the partnership with the consumer programme evolved.
"We needed to hear Matt Crawford again because he's such a good character," he said.
"We were thinking about what he would be doing and then producer, Jenny Thompson, had the idea of getting in touch with You and Yours."
Fortunately, the consumer programme's award-winning fraud reporter, Shari Vahl, was a life-long Archers fan, and scriptwriters worked closely with her for months.
"Half of all reported crime is fraud so I knew this was important," she said.
Sworn to secrecy, she told no one about her assignment.
She explained how she helped create the plot: "The producers wanted to make this fraud as real as possible," she said.
'Not uncommon'
"I've just taken the experience of You and Yours listeners and what's happened to thousands of people, many of whom have contacted us.
"They have been convinced enough to invest their pensions, large amounts of money, into what seem like really brilliant schemes," she added.
Huw Kennair-Jones agrees: "This is not an uncommon thing.
"It's about people who are not stupid at all who are taken in by the promise of this incredible return that just doesn't exist," he said.
Shari Vahl says modern investment fraud can be highly believable.
"Victims are given really fantastic brochures with wonderful pictures and graphs pointing skywards, all run by extremely charming and very credible people.
Shari explained the lengths she and Archers scriptwriters went to to create a convincing plot.
"At one point we decided it would be a good thing to actually call up the Costa Rican horse racing authorities to get a list of their courses - so that's what we did," she said.
The scheme unravels when Lilian Bellamy begins to investigate the details and finds they don't add up.
'Report or prevent'
Action Fraud, which works closely with City of London Police, told the BBC that people need to be on their guard.
"Never take up offers of investments on the spot from cold calls," a spokesperson told You and Yours.
"To make safe investments you should first look at the Financial Conduct Authority's ScamSmart warning list.
"If you have been affected by fraud or would like to know more about how to report or prevent fraud, go to our website," they added.
You and Yours is on BBC Radio 4 weekdays 12:15-13:00
The Archers is broadcast 19:00-19:15 Sunday-Friday, repeated at 13:00