Black Friday sales bonanza set to hit a record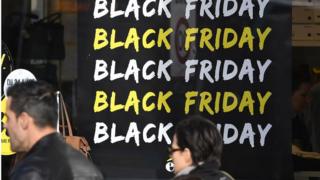 The Black Friday sales bonanza was on course for a record with consumers set to spend almost £8bn during what has become a four-day shopping event.
Barclaycard said transaction numbers were 32% up on last year, with Black Friday most likely behind the rise.
Retail researchers said online sales would see the most growth on Friday.
Shoppers are expected to spend £1.15bn online - up 15% on the same day last year. On the High Street, sales were forecast to hit £1.45bn, up 4% on 2016.
Barclaycard said the value of all transactions were up 8% on last year by mid afternoon.
Using Barclaycard data, it is not possible to split off what is everyday spending and what is spurred by Black Friday.
However, average weekly spending online in the UK stands at about £1.2bn according to the Office of National Statistics, so sales on Friday alone will be close to matching those in a normal week.
John Lewis, Game, Tesco and Argos have extended their high street opening hours and many retailers have already offered days of deals in a bid to maximise hype and spending around the event.
But many retailers have opted out, including Marks and Spencer. London's Harrods department store has also ignored Black Friday, saying that frenzied sales events "cheapen the brand".
And clothing retailer Primark said in a blog: "Black Friday? *Yawn* As if we'd make you wait all year for a flash sale, just to wow you with our totes increds prices."
Black Friday - which now includes weekend shopping promotions and Cyber Monday - has surged in popularity in the UK in recent years, and has become popular in mainland Europe.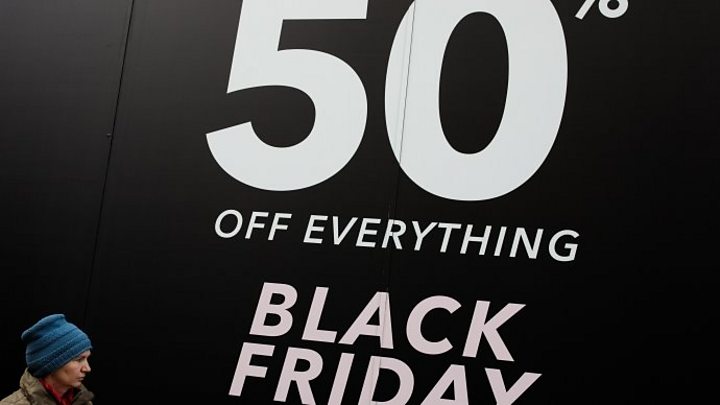 According to predictions by VoucherCodes and the Centre for Retail Research, shoppers are expected to spend £7.8bn over the four-day period including Cyber Monday. That would be up 7% on the four days last year.
Barclaycard, which processes nearly half of all debit and credit card transactions in the UK, said between 1pm and 2pm it had processed a record 998 transactions in one second, compared with last year's peak of 791. Meanwhile, spending was up by 8% on the same period last year.
TopCashback's UK director Adam Bullock said "Black Friday is shaping up to be the biggest shopping day we have ever seen", with overall consumer spending increasing by 15% and £12,500 being spent per minute. The discount retailing site said it expects the figure to increase throughout the day.
Smaller Queues
However, there was a lack of early morning queues on Oxford Street Friday morning, although John Lewis had attracted a line of about 12 bargain hunters who stood outside the department store shortly before opening time.
Lawrence Konadu, 20, and Jeremy Opoku, 22, were heading to Japanese retailer Uniqlo to buy KAWS' second collection of the iconic comic strip Peanut, which launched on Friday.
"We still would have come out, but the release of this brand gave us more of a push," Mr. Opoku said.
But other shoppers said they didn't even realise it was Black Friday. Mark Norden said: "I didn't know it was Black Friday. I had a meeting around the corner and thought I would return some boots."
Waking up earlier
People are staying up later and waking up earlier for Black Friday deals. Online traffic between midnight and 6am rose 40% year-on-year, and was up 300% over a typical day, according to Katie Ward of Vouchercloud.
"We've increasingly discovered the trend of staying up later and waking up earlier for Black Friday deals is true and strong," Ms. Ward said.
The largest peak in spending was between 6am and 7am, with traffic rising more than 400%. Some 85% more shoppers checked deals before midnight.
Sales via smartphones may replace desktops on Black Friday this year, according to researcher PCA Predict, with more than 40% of transactions expected to be made on phones and tablets.
Dozens of retailers are offering a raft of deals online including Amazon, Currys PC World, Argos, Gap, Top Shop, Miss Selfridge and others.
Although online transactions have increased, basket sizes are lower so far, according to Global Savings Group.
The average basket size of online spenders is £107.35 compared with a normal day's spend of £151.42. About 60% of online discount hunters are female, the group said.
Black Friday originated in the US, where it takes place the day after Thanksgiving, traditionally kick-starting the Christmas shopping period.