Tesla finishes installing mega-battery in Australia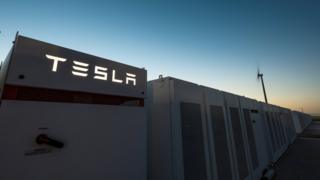 Tesla has finished installing the world's biggest lithium-ion battery and will switch it on over the coming days.
The 100-megawatt battery in South Australia is designed to provide security to the state's electricity grid.
It will store enough energy to power 30,000 homes for about an hour.
Tesla's chief executive Elon Musk had said the battery would be free if it was not installed within 100 days of signing a contract for the project.
It appears the company will meet the 1 December deadline for installation of the battery array, which will be connected to a wind farm run by French renewable energy company Neoen.
Nikkei Asian Review reports that the company used Samsung battery cells to get the work done.
Mr Musk originally made the offer on Twitter after South Australia suffered a series of "load shedding" blackouts in February, as well as a state-wide blackout in September 2016 that left 1.7 million people without power.
Load shedding blackouts occur when demand outstrips supply, and the Australian Energy Market Operator orders power companies to switch off electricity to customers to protect the grid.
The state will have the right to use the battery array's entire output to avoid load shedding events.
The project is part of a wider package of projects aimed at guaranteeing the energy delivery in the state, which is heavily dependent on renewable energy.
Although it will undergo an initial testing phase, the battery array will provide "system security services" as soon as it is switched on.
"The world's largest lithium ion battery will be an important part of our energy mix, and it sends the clearest message that South Australia will be a leader renewable energy with battery storage," said the state's Premier, Jay Weatherill.