Hong Kong share index passes 30,000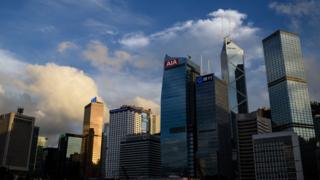 Hong Kong's Hang Seng share index has risen above the 30,000 mark for the first time since November 2007.
The index is up by more than a third this year, and is approaching its record high of 31,638.22.
That record, however, occurred just before the global financial crisis, after which the index plunged to a level below 12,000.
The index's movements echo those of many others in the region, which are also near or at record highs.
Many analysts have cited low interest rates and strong economic growth in China as the main factors behind the market gains seen recently in Asia.
In addition, a lack of good investment alternatives means money is continuing to pour into stocks.
"Bonds are unattractive because of America's decision to gradually normalise interest rates. Property prices are still high, and cash is deeply unappealing. Of the four main asset classes, the stock market still looks relatively inexpensive," said David Kuo, chief executive of the Motley Fool Singapore,
The Hang Seng index eventually closed at 30,003.49 on Tuesday.
Japan's benchmark Nikkei index recently hit highs not seen since 1996, while South Korea's Kospi is currently trading near all-time highs.
Australia's ASX 200 index recently passed 6,000 for the first time since 2008, before slipping slightly.
But Hong Kong is possibly the region's star performer.
"The Hong Kong stock market has outperformed the Japanese stock market and the Singapore market by almost a factor of two. That is a remarkable achievement given that the Hong Kong economy has not exactly performed significantly better than other countries in the region," Mr Kuo said.
Following the US
Other analysts think the Hang Seng is taking its cues from US markets, which are also trading near record highs.
"Nearly all the markets are at multi-year highs" said Gavin Parry, the managing director of Parry International Trading.
He said US markets had been led higher by tech stocks earlier in the year, and have been further buoyed by strong corporate earnings in other sectors.
The lag between Asian markets and US markets is beginning to "compress", he said, led by stocks like Tencent, which recently surpassed Facebook in terms of market valuation.
David Kuo thinks Tencent's large contribution is slightly worrying.
"Shares in Tencent have risen 125% this year. It now accounts for 10% of the index. A small wobble in Tencent shares could have a disproportionate impact on the index," he said.
Gavin Parry thinks a big 2007-style readjustment is unlikely, but he does expect some turbulence next year with the US Federal Reserve expected to continue raising interest rates.