FTSE 100 ends higher as EasyJet shares take off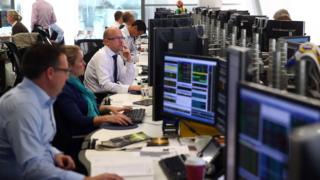 Shares in EasyJet took off on Tuesday as the airline said it was benefitting from other carriers' woes.
It said revenues at the start of its new financial year had been "encouraging", helped by the demise of some rival operators.
Monarch, Air Berlin and Alitalia have all gone into administration this year.
Its positive comments overshadowed news of a 17% fall in full-year profits to £408m, after what EasyJet called a "difficult year".
EasyJet shares rose just over 5% leading the FTSE 100 higher, with the share index closing 21.88 points higher at 7,411.34.
Babcock was the biggest faller in the FTSE 100, down 6.8%, after it warned that reviews of UK defence spending could hit its revenue growth.
In the FTSE 250, shares in temporary power provider Aggreko sank 11% as its third quarter trading update disappointed investors.
Problems relating to pricing in Argentina led to revenues at the firm's power solutions utility division - which operates mobile power plants - dropping 15%.
On the currency markets, the pound slipped 0.02% against the dollar to $1.32330 and was 0.08% higher against the euro at €1.17420.