EasyJet profits fall after 'difficult year' for aviation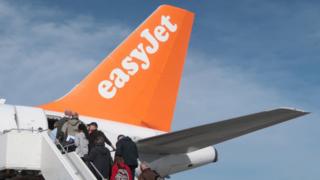 EasyJet's profits have fallen during what the airline called a "difficult year for the aviation industry".
Pre-tax profits in the year to 30 September fell 17.3% to £408m, in line with guidance given last month. Passenger numbers rose 9.7%.
These are the last results overseen by chief executive Carolyn McCall, who is moving to become head of ITV.
"EasyJet's model is resilient and sustainable and we now have a huge amount of positive momentum," she said.
In early morning trade in London, shares in Easyjet were up by 4.36%
Devaluation
The headline profit figure would have been higher, but the airline was hit by "an adverse headline currency impact" of £101m.
"We are hedged on currency, but the devaluation was quite significant on 24 June, 2016," Ms McCall told the BBC's Today programme, referring to the fallout from the Brexit referendum vote.
"We started the year knowing exactly that, there was no surprise there for the market."
She said that the airline was in a healthy state, despite the industry having had "a couple of years where it was a very tough market".
German costs
In October, EasyJet announced an agreement to acquire part of Air Berlin's operations at Berlin Tegel airport for €40m (£35m).
The deal is expected be completed in December, and will result in the airline entering into leases for up to 25 A320 aircraft, and offering employment to up to 1,000 former Air Berlin crews.
The firm added that operations at Berlin's Tegel airport would result in a headline loss of around £60m in 2018, with one off-costs of around £100m.
"EasyJet can boast record passengers, record loads and record capacity," said analyst Neil Wilson at ETX Capital. "But lower fares, currency headwinds and higher costs mean profits are down again."
He added: "In October we noted that EasyJet looks set to benefit from not only Ryanair passengers rebooking over the coming months, but also absorbing the demand on routes from the collapse of Monarch.
"This should help with load factors over the winter, with the airline - along with Ryanair - enjoying the biggest complementary route coverage."