Can property developers be taught to be ethical?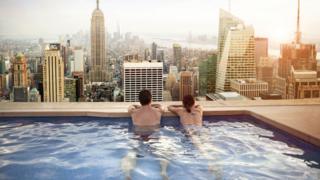 Property developers have been blamed for a lot, from the financial crash to gentrification.
Whether deserved or not, there's a perception of them as being selfish and greedy.
But a master's course at Columbia University in New York is trying to change this image by teaching the next generation of developers to be more community-minded.
The degree is taught at Columbia's Center for Urban Real Estate.
"Property developers have a terrible reputation," says course director Dr Patrice Derrington, who was one of the developers responsible for rebuilding downtown New York after 9/11.
When Talar Sarkissian tells people that she is studying at Columbia for an MSc in real estate development, a common response is: "Oh, you must be in it for the money".
"I often have to justify and explain what I'm doing to people and why, so they can understand it from my perspective rather than basing their judgement on the stereotypes," she says.
This image became even more complicated when another controversial property developer entered the White House as president.
Better value
Every year more than a hundred students take the course at Columbia, which has produced some of New York's leading real-estate developers.
Students are taught to focus on the needs of the community that will live alongside a planned new development, rather than pursue pure profit.
Dr Derrington says this is not just the ethical thing to do. It can be the best way for a developer to guarantee a project is profitable.
"A developer today is only one of many agents that are part of the process of putting up a building, and they are not the loudest voice," she says.
That most influential voice, she argues, belongs to the local community around the site of a proposed new building.
Through social media, people are better informed about proposed developments and more willing to defend their area from perceived threats.
"Across the world, developments have been rejected or seriously reduced because of objections from the local community," says Dr Derrington.
"Today, a successful developer needs to be patient and listen to the community."
Students on the course are taught that although speculating on building luxury flats to sell to foreign investors can give high returns, these properties often go unsold - particularly if there is a downturn in the market.
'More than the bottom line'
Instead, building flats that people will live in, or offices that provide space for local businesses, can a better guarantee of commercial success.
Student Talar Sarkissian says the course has taught her about the impact a development can have on the area around it. It's not just providing housing, but can be create jobs or facilities for the community.
"It is about more than just the bottom line," she says.
Recent graduate Jamie Horton is already putting what he learned into practice as a project manager at New York-based Janus Property Company.
The company is developing a new commercial campus that will create much-needed local jobs.
"The vision for the project is to create a job centre in New York's Harlem, which currently has very little office space," he says.
Early warnings
A master's degree is an unusual route into working in property development.
Dr Derrington hopes taking an academic approach to real estate will help the industry to anticipate events like the sub-prime mortgage collapse of 2008.
"Real estate and finance were entirely to blame for the crash," she says.
"It's a cycle, so we know that it will happen again. We are trying to prepare our students so that they can spot this early and help to alleviate it."
She says the industry is already making similar mistakes, and predicts another crash could happen within two years.
"We are now at a point where it will take 17 years to fill the supply of luxury condominiums which are on sale for more than $5m (£3.8m)," she says.
"We have an over-supply and you are already starting to see investors pull back."
"The signs are there and it is going to be very interesting over the next few years."
---
More from Global education
Ideas for the Global education series? Get in touch.
---