British Airways to board passengers in cheap seats last
By Russell Hotten
Business reporter, BBC News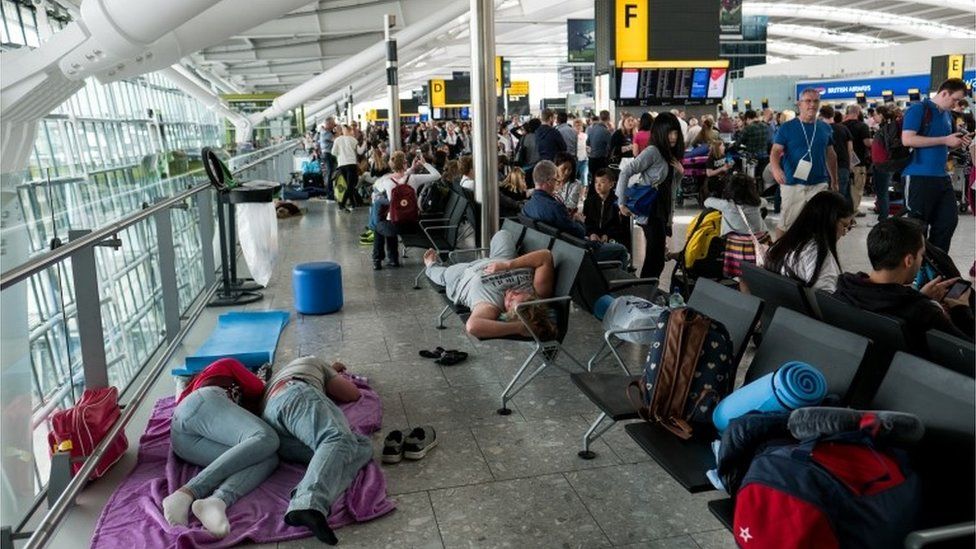 British Airways is introducing a boarding policy that means those buying the cheapest seats will be called last.
From 12 December, passengers will be assigned a number between 1-5 printed on boarding passes, with the highest figure reserved for economy fares.
BA said the move is about simplifying the boarding process, and bringing it into line with other carriers, including American Airlines and Iberia.
But BA was accused of operating a class system and further eroding perks.
The number "one" will be given to first class passengers, with others assigned to other segments such as Executive Club or World Traveller Plus.
Passengers who are travelling with children or have mobility issues will still be able to board ahead of everyone else.
A BA spokeswoman said: "We are always looking at ways to improve and simplify the airport experience for our customers... Next month we are introducing new boarding procedures to speed up the process and make it simpler for customers to understand.
"This method has been used by airlines around the world for a number of years, including by our partners American Airlines, Iberia and Qatar."
But the move has not gone down well with some travellers on Twitter. Banjobob @scottishcringe says: "Nothing quite like a British class system to let you know your place!"
Flying BA? Bought the cheapest European ticket? From 12 Dec, you'll be last to board the plane
One passenger says: "It's very Kardashian, ostentatious about wealth and status. Everyone will know how much money you've got based on where you are in the line"https://t.co/YMgb3a18IW

— Simon Calder (@SimonCalder) November 18, 2017
David Smith @drs1969 writes: "British Airways: Are you out of your minds? This boarding method is appalling and universally hated."
And Sam Vines @samvines6, writes: "Who thought up this stupid idea? If you want to improve boarding process then group by seats, not by price."
"Arguably this is an easier system as it can be consistent across aircraft types, and is also easier for passengers to comprehend.
"Ultimately the success of such a system largely comes down to the clarity of announcements and the enforcement of the boarding area. The way I see it this would definitely simplify things, so I'd welcome it."