Black Friday deals 'not all they seem,' shoppers warned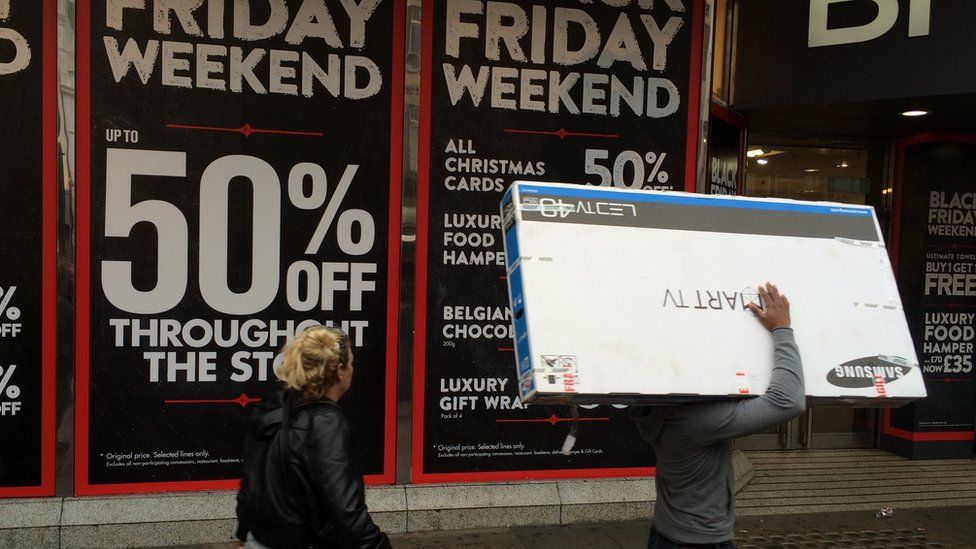 Shoppers should be wary of Black Friday deals which are often not as good as they seem, says consumer group Which?
More than half of last year's Black Friday deals were cheaper or the same price at other times of year, according to the consumer group.
It advised shoppers to check regular prices and to shop at retailers which pledge part-refunds if prices drop.
Which?'s advice is based on a study of prices for 35 popular tech and personal care products from last Black Friday.
Around £2.6bn is expected to be spent this Black Friday which marks the day after Thanksgiving, when shops try to tempt people with big discounts.
"It's easy to get swept along by the hype and excitement on the day, so we recommend doing some preparation and research to help make sure you really are getting a good deal," said Alex Neill, the group's managing director of home products and services.
Which? said 60% of all the items it tracked were cheaper or the same price on other days of the year, including:
A Neff Slide and Hide Oven from Currys/PC World, which was cheaper than the Black Friday price on at least 113 other days of the year
A Samsung 55-inch Smart HD curved TV advertised in Currys/PC World as "save £400, now £849", which was actually £50 cheaper on 29 other days of the year and £79 cheaper on 18 other days of the year
A 49-inch LG TV advertised in Argos at £499 with the tagline "Our lowest price," which was £4 cheaper a week later and another £16 cheaper at the end of December
An Oral B electric toothbrush advertised on Amazon as "save 26%," when it was actually £5 cheaper on at least two days in July
The consumer group advised shoppers to "look at the price, not the 'saving'."
In a statement, Currys/PC World said Black Friday had become an "established part" of its promotional calendar and that it was "bemused" by suggestions that "it is untoward for retailers to reduce prices on some items to a point lower than it had been in November."
An Argos spokesman said Black Friday "is a fantastic event which allows customers to choose from thousands of products which offer great value."
"This does not exclude these products from other sales or promotional activity at other times of the year," he added.
Amazon said: "We offer many thousands of incredible deals around Black Friday representing millions of pounds of savings for our customers across a vast selection of products."
Which? tips for shopping on Black Friday
Look at the price, not the "saving"
Find out whether retailers will match prices
Sign up for online accounts with the biggest retailers a few days in advance so you can complete purchases more quickly
Research the products you want beforehand - make "wish lists," sign up to retailers' newsletters and follow them on social media to track prices and see what's on offer
Research prices online before hitting the shops
Be wary of unusual brands
Make a list of retailers selling the same product so you don't miss out if websites crash and stocks run out
Avoid crowds by checking if retailers will let you buy online and pick up later
Start early - some retailers begin promotions a week or so before Black Friday
Don't forget about deals on offer during "Cyber Monday" - the Monday after Black Friday
Check retailers' returns policy