The artists who turned vegan skincare into big business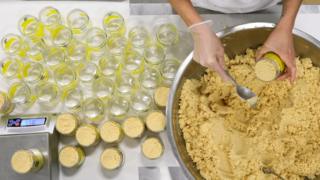 The tiny factory for Meow Meow Tweet in the New York countryside can be a little misleading.
Full pots of melted ingredients simmer on electric stoves. An employee switches between using a whisk, an electric beater and a spatula.
Canisters storing coconut oil, baking soda and arrowroot powder line the shelves.
But, the company isn't in the food business. And it's not creating pet food either, like the name might suggest.
Meow Meow Tweet is a mostly organic small-batch skincare company that uses only vegan ingredients, and business is brisk.
It was founded in 2009 by Jeff Kurosaki, 37, and his partner Tara Pelletier, 35, both of whom are artists and musicians. Meow Meow Tweet was named in honour of their two cats and a pet bird.
The firm recently scored shelf space in a major US department store and is looking to expand into Europe next year.
Meow Meow Tweet's near-exponential growth reflects an overall trend in the organic skincare industry. The global market is valued at $4bn (£3bn), potentially doubling by 2025.
Big players aren't the ones meeting much of this demand. That is done by small-scale producers like Meow Meow Tweet, based in the town of Gardiner.
Although the demand is welcomed, it also presents an ethical dilemma - how do you grow a business without compromising its soul?
"One of our goals as a business is we want to be able to have healthy, quality products that are accessible to everyone," says Mr Kurosaki.
"By doing manufacturing we want to be able to reach everyone, so that no one is stuck having to only choose a product that has chemicals and fillers."
By fillers and chemicals, Mr Kurosaki means common ingredients in conventional skincare like paraffin, a synthetic wax derived from petroleum.
While it is approved by government bodies like the US Food and Drug Administration for use in skincare, paraffin comes nowhere near the bar set by those wanting to live an organic lifestyle.
As more people in countries like Britain and the US adopt a cleaner life, it's a case of the right time, right place, and right product, for Meow Meow Tweet.
However, Mr Kurosaki and Ms Pelletier didn't pick the direction of their company with the help of focus groups or a savvy business plan. They started off making soap and then deodorant to financially support their careers as performance artists.
Ms Pelletier, a former chef, tinkered in their New York City apartment kitchen to create the recipes.
"We had this grand idea that we were going to grow all of our ingredients for the soap, but we only had two windows," said Mr Kurosaki, having a laugh at his idealism. "The harvest wasn't big enough."
They made $4,000 in the first year selling at farmers markets and craft fairs. Within three years, opportunity came knocking in the form of a $75,000 order from the trendy furniture store, West Elm.
Ms Pelletier says: "There was this moment where we were like 'this is either a hobby or a real thing and we are going to have to really do this'.
"We just hit the ground trying to find stores [to stock the product] and we just got more professional about everything."
At the moment, Meow Meow Tweet has about 25 products, ranging from face and body care oils and creams, to lip balms and cleansers. The products are primarily sold in small stores and through the company's website as well as on Amazon.
They sell about 2,000 products a month, with prices ranging from $10-12 for soap, deodorant sticks starting at $14, and full-sized skin cream for $25.
Up until 2015, when they began outsourcing their popular deodorant, everything was made by Ms Pelletier and Mr Kurosaki. Now, they also have five staff members.
The company has not yet cracked $1m in yearly income, but it is getting close, according to Ms Pelletier.
The organic skincare industry is expanding thanks to a growing consumer awareness about the impact of products on personal health and the environment, as well as increased accessibility, according to Karen Noronha, an analyst with Grand View Research, an industry research firm based in India.
"These products are becoming much more available in drugstores and department stores," she says, adding that consumers aren't so bothered by the higher cost usually attached to organic skincare products.
This popularity has generated what Ms Noronha called pseudo products, which use clever marketing and packaging to appear more organic and natural then they are.
"If you really go through the ingredients you will actually see a lot of chemicals listed," she said.
Another issue for organic skincare is a short shelf life, according to Ms Noronha. Void of chemical stabiliser and with unpredictable plant-based ingredients, the products simply don't last as long.
Meow Meow Tweet has also had issues sourcing some of its ingredients. For example, candelilla wax, an ingredient in the deodorant, is harvested from a wild shrub of the same name. Ms Pelletier says: "You have to go out into the wild and take some of it. That actually isn't sustainable."
The choice was made to replace the candelilla wax in the deodorant with sunflower wax, which is a high-yielding crop common in the US and Canada.
She adds: "We have to make sure this can work for the long term, not just for us, but to make sure we're aren't pillaging whole populations of plants."