Sky shares lifted by Fox deal reports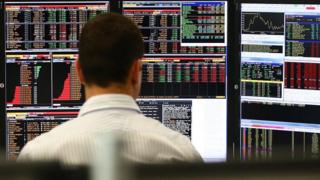 Shares in Sky were boosted by reports that Comcast and Verizon Communications are interested in buying parts of media giant 21st Century Fox.
Fox's 39% stake in Sky is reportedly one of the assets being eyed by the suitors, and this triggered a 4.1% rise in the UK broadcaster's share price.
That made Sky the biggest riser in the FTSE 100, with the benchmark index up 6.26 points at 7,380.68 by the close.
Shares in United Utilities fell 4% following a broker downgrade.
Analysts at HSBC cut their rating on the water and sewage firm to "hold".
Outside the FTSE 100, the biggest mover was construction firm Carillion, which saw its shares plunge 48% after it issued another profit warning and said it expected to breach its financial covenants.
On the currency markets, the pound edged up 0.1% against the dollar to $1.3218 but fell 0.03% against the euro to €1.1208.