Walmart helps to lift US markets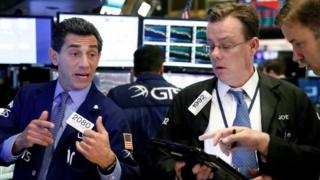 Walmart helped to lift US markets on Thursday, after the retail giant reported stronger-than-expected quarterly sales.
Shares in the retailer jumped 10.9% after it reported a 4.2% increase in total third quarter sales. Comparable sales at its US stores rose 2.7%.
The Dow Jones increased 187.08 points, or 0.8%, to 23,458.36.
The wider S&P 500 gained 21 points or 0.8% to 2,585.6, and the Nasdaq rose 87.08 points or 1.3% to 6,757.1.
The broad gains followed two days of decline and were driven by strong corporate results.
Walmart said its investments in online retailing, such as its acquisitions of Bonobos and Jet.com, had been paying off, with online sales up 50% in the quarter.
Cisco was another company doing well. Its shares climbed almost 7% after the technology firm reported quarterly profits of $2.4bn, up 3% from the same period a year earlier.