Retail sales in first annual fall since 2013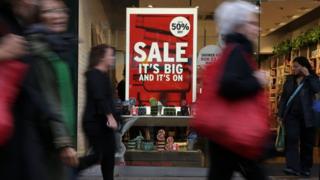 UK retail sales fell by 0.3% in October from a year earlier, according to the Office for National Statistics (ONS), the first annual fall since March 2013.
Higher inflation had dampened spending, the ONS said, but it also said October last year had seen very strong growth.
Economists also pointed to unusually warm weather holding back some sales.
Other figures showed sales in October rose 0.3% from the previous month, and for the three months to October sales were 0.9% higher from a year earlier.
The ONS said this indicated the underlying pattern was one of growth.
The statistics body said that non-food stores, "in particular second-hand goods stores (charity shops, auction houses, antiques and fine art dealers) provided the largest contribution to this growth".
'Cautious mindset'
Samuel Tombs, chief UK economist at Pantheon Macroeconomics, said the warm weather meant people had held off buying new winter clothing.
"Sales were depressed by some one-off factors," he said.
"Unseasonably mild weather - average temperatures were 1.7C above their 1970-to-2016 October average - likely was the main driver of the 1.5% month-to-month decline in clothing sales."
But he added that consumers' state of mind had changed: "Retail sales volumes recovered only partially from September's 0.7% month-to-month drop, underlining that consumers now have adopted a cautious mindset."
Higher prices took their toll on sales, too.
The latest inflation figures, released earlier this week, showed prices rising at an annual rate of 3%. The ONS said food prices had risen by 3.5% and general retail prices by 3.1%.
Storms and half-term
ONS statistician Kate Davies said: "We are continuing to see an underlying picture of steady growth in retail sales, although this October suffered in comparison with a very strong October in 2016."
Lisa Hooker, consumer markets leader at PwC, said there were a whole host of factors that had held back October sales, but the retail industry was likely to see a pick-up in November.
"Unseasonably warm weather and Storms Brian and Ophelia coinciding with half-term saw some shoppers temporarily stay away from the High Street, impacting footfall and sales of non-food items - particularly new season clothing lines," she said.
"We expect stronger retail sales in November, as many retailers have waited until after Halloween to kick start their Black Friday and Christmas campaigns."