Dyson to sue former chief executive Max Conze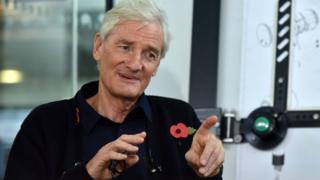 Electrical firm Dyson is suing former chief executive Max Conze for allegedly leaking company secrets and using company resources for his own benefit.
Max Conze stepped down in October and was thanked by the British firm's founder, Sir James Dyson.
But the BBC has learned that, according to the company, Mr Conze was sacked for an alleged series of breaches.
Mr Conze denied the allegations and said it would cause an "unnecessary distraction" for Dyson staff.
The allegations include "the disclosure of confidential information, and a breach of his fiduciary duties".
A spokesman for the company said: "The Dyson board has decided to bring a claim against Max Conze at the High Court of Justice in London in relation to his actions while chief executive."
Mr Conze was appointed to the role in 2011 after a stint running Dyson's US business.
His period as chief executive coincided with a huge increase in sales of Dyson's products. Profits at the vacuum cleaner and air purifier maker rose 41% last year to £631m.
The breaches are said to include: "Disclosing confidential product information to third parties, breaching Dyson's confidentiality rules.
"Using Dyson resources and information to evaluate an investment opportunity for his own benefit and/or for the benefit of a venture capital firm, rather than for Dyson's benefit - breaching his fiduciary duties.
"Failing to follow lawful and reasonable instructions regarding his conduct and focus of attention."
In response, Mr Conze said: "I did nothing of the sort. During my six years as CEO of Dyson, the sales and profits will have tripled with the company growing from 2,500 to 10,000 staff."
He said Dyson sold 13 million machines last year, up from five million in 2010. "This couldn't have happened without my total commitment to the business and its people," he said.
Mr Conze added: "This ridiculous allegation is merely trying to distract attention from the claims that Dyson know I am about to issue."
Dyson would not comment on whether the breaches were in connection with its project to build a new electric car, which had been long under wraps and only recently revealed.
The action will be lodged in the High Court on Wednesday.