Public-sector pay rise should be guaranteed, says think tank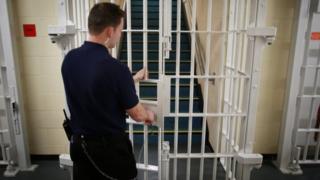 The government should guarantee public sector pay rises to ease the wages squeeze on vital public services employees, the IPPR has said.
Public sector pay should either rise in line with inflation or private sector pay, the centre-left think tank added.
The GMB union backed the call, saying the policy would encourage public sector staff retention.
The Treasury said the public sector pay cap was scrapped in September, and pay was being reviewed.
Alfie Stirling, IPPR senior economic analyst, said: "It is vital that the public sector does not get left behind.
"Public goods, such as health, education and law and order, are the foundations upon which successful private commerce is built."
The cost of raising public sector pay in line with Consumer Prices Index inflation over the next two years would be £5.8bn, with the cost dropping to £3.55bn after taxes and lower welfare payments, according to the IPPR analysis.
Higher spending in the economy would reduce the figure further - to £3.3bn by the end of the 2019/20 financial year, said the report.
To bump public sector pay in line with the private sector would cost about £8bn, or about £5bn after tax receipts, Mr Stirling said.
The value of public sector pay has been "significantly eroded" by a seven-year pay squeeze, IPPR added.
Funding
In September the government announced that the cap on public sector pay rises in England and Wales was to be lifted, and that ministers would get "flexibility" to breach a longstanding 1% limit.
But Joe Dromey, IPPR senior research fellow, told the BBC that "the government has so far not confirmed that additional funding would be available to meet any pay rise over and above the 1% that had been budgeted for".
"This means that in the absence of additional funding, a pay rise of above 1% would have to be covered by the department concerned, leading to further cuts.
"This will in effect limit the pay rises that are recommended, and it will represent a continuation of the pay squeeze," he added.
However, a Treasury spokesperson said the government would not want to pre-empt the work of independent pay review bodies looking public sector pay.
Pay awards will recognise workers' contributions, the spokesperson added.
"Public sector workers do a fantastic job and the government is committed to ensuring they can continue to deliver world-class public services," the spokesperson said.
"Public sector pay packages will continue to recognise workers' vital contributions, while also being affordable and fair to taxpayers as a whole."
The GMB union, which supported the IPPR research, said the findings proved that raising public sector pay was affordable.
National officer Rehana Azam said: "Recruitment and retention problems are impairing public services for everyone as staff are pushed to breaking point. The public sector pay pinch is hurting but it isn't working."