Brexit no-deal could stop Aston Martin production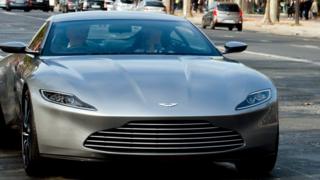 Aston Martin has said it may have to halt production if the UK fails to strike a Brexit deal with the EU.
All new cars in the UK must have Vehicle Certification Agency (VCA) approval, which is valid in the EU.
Without a UK-EU deal, that validity would cease for new cars from March 2019.
Mark Wilson, Aston Martin's finance chief, said it would have the "semi-catastrophic effect of having to stop production".
"We're a British company. We produce our cars exclusively in Britain and will continue to do so," he said.
"Recertifying to a new type of approval, be that federal US, Chinese or even retrospectively applying to use the EU approval, would mean us stopping our production."
However, Mr Wilson added: "We suppose there will be a transitional arrangement. During that transition we would have to look to see how Aston Martin could recertify under a non-VCA approval structure."
Transition
Mr Wilson was giving evidence to the Business Select Committee along with Mike Hawes, Society for Motor Manufacturers and Traders chief executive, and Patrick Keating, Honda Motor Europe's government affairs manager.
All three called for clarity on a transition deal with the EU.
Mr Keating told the MPs that Honda would take 18 months to get its systems ready for new customs procedures for exporting to Europe.
He said Honda imported two million components every day from Europe on 350 trucks and had just one hour of stock on its shelves.
Every 15 minutes of delay at customs would cost the company £850,000 a year, although Mr Keating admitted the figure was not "scientific".
"We're thinking about increasing the amount of warehousing and the amount of stock we would have to hold if friction entered the border," he said. "March 2018 is where we would want clarity around transition."
Integration
Mr Hawes added that the UK motor industry's integration into European supply chains could make it harder to benefit from any free trade agreement with non-EU countries after Brexit.
Free trade agreements require that about 60% of goods must originate from within the countries making the agreement.
Mr Hawes said: "The average car made in the UK has 44% of its components from UK suppliers. How much of that 44% actually comes from the UK, bearing in mind those suppliers are buying in supply chains from all over the world? The figure is more like 25%, which is a long way from the 60% threshold you would need to qualify for a free trade agreement."
The problem could be overcome through a "cumulation" agreement with the EU, he said. That would allow EU content to count as being of UK origin and vice versa - but would need to be part of the Brexit trade deal.