Price rises - is the worst over?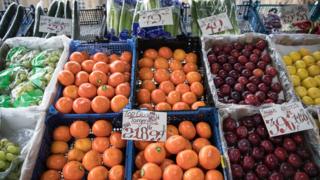 When I wrote last month about inflation's increase to 3%, I said that it was likely to peak before the end of the year.
This month's figure - steady at 3% - suggests that the upward pressure has already begun to abate.
Much of that is down to the fact that the "sterling effect" - the sharp fall in the value of the currency following the referendum - is a singular event as far as the inflation figure is concerned.
Inflation is a comparative measure against what was happening a year ago.
And therefore, with the pound steadier over the past 12 months, the effects of sterling's fall begin to wash out of the data.
Although, as the Bank of England points out, prices will still be affected over the next two years.
Input price inflation (the amount companies are paying for the materials they use) is down from 8.1% to 4.6%.
Output price inflation (the cost of goods leaving factories) is also down, from 3.3% to 2.8%.
Fuel prices were also rising more rapidly this time last year.
Top of the curve
All those factors are taking inflationary pressure out of the system.
As has the interest rate rise the Bank of England announced earlier this month.
But, it is not all one way traffic.
Oil prices are rising again, as unrest in the Middle East and a demand spike because of better global growth push the cost of a barrel of crude upwards.
Food prices are also rising at 4.2%, the highest since October 2013.
Household incomes are increasing at 2.2%.
Price rises may be approaching the top of the upward curve.
But that incomes squeeze is still with us.