Teenagers wrongly approached about PPI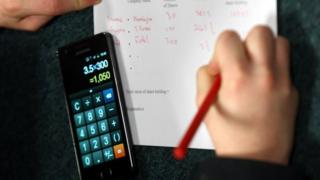 Nearly a fifth of 15 to 18-year-olds have been contacted about PPI claims - despite never having access to the product, research has found.
Teenagers are being exposed to financial crime and 62% worry about money, the London Institute of Banking and Finance also found.
And the institute, which provides personal finance qualifications, raised concerns about gambling.
It said 12% of 17 and 18-year-olds had gambled.
"This is a significant increase from the younger age group, potentially indicating that 18-year-olds are likely to quickly take up opportunities to gamble formally, such as through a bookmaker or by using online gambling," the report concluded.
It said the 12% figure "is a significant proportion of young people in this age group and, while the monetary cost of their gambling is not captured by this survey, the prevalence of gambling may be a cause for concern."
'Troubling'
The report draws attention to financial products being offered inappropriately to young people.
The institute said it was "troubling" that 11% of young people had been offered a credit card, despite it being an offence to offer credit to someone under the age of 18.
Ever more have been contacted about PPI claims - compensation for loan insurance that no people of this age would ever had access to.
It does show that education in money issues has risen in recent years.
But girls are less likely to access financial education in school or college, and are more likely to worry about money and feel less confident in their knowledge.
Those from more disadvantaged backgrounds are less likely to receive such information.
Alison Pask, from the institute, said: "While efforts made so far are commendable, more work is needed across the sector to ensure that the delivery of financial education consistently does what it is meant to do - equip all young people with the skills they need to get good outcomes when managing their money.
"The findings also show that parents too have a key role to play."
What youngsters should know
Understand a payslip and check whether a tax code is correct, rather than an emergency tax code for a first job
Be aware of which bills to pay first, primarily council tax
Know that failing to pay could affect a credit rating for six years, with consequences such as difficulty getting a new mobile phone contract
What parents should do
Help children to be aware of bills that need to be managed, how to pay, and when
Show youngsters your payslip to help understand tax and national insurance, and tax codes
Talk to children about budgeting and savings decisions and how this pays for holidays
Source: Money Advice Service