Wall Street slips on oil prices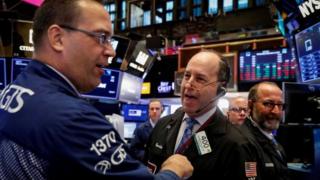 US stock markets closed lower on Tuesday, as a fall in oil prices pulled down energy shares.
The Dow Jones edged down 30.23 points or 0.13% to 23,409.47.
The wider S&P 500 index fell 5.97 points or 0.23% to 2,578.87, and the tech-focused Nasdaq index was down 19.73 points or 0.29% to 6,737.87.
General Electric shares also fell as investors reacted to a restructuring plan unveiled on Monday.
Under the plans, GE will focus on the aviation, power and healthcare sectors. The company also cut its dividend - for only the third time in its 125-year history - and halved its full-year profit forecast.
General Electric shares dropped almost 6% after a similar decline on Monday.
Shares in retailer TJX, owner of TJ Maxx, fell almost 4% after the retail group said same-store sales were flat in the third quarter, and issued a lower than expected profit forecast.
After jumping 20% on Monday after reports it was a bid target for Hasbro, shares in toymaker Mattel rose a further 5%.