Brazil's Neymar and the $6bn global trade in footballers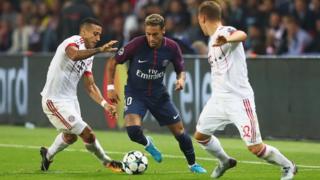 Football transfers were catapulted off the sports pages into the global media spotlight this year when Paris St-Germain broke - or rather smashed - the world record fee to snatch Brazilian star Neymar from Barcelona this summer.
The French club paid an eye-watering 222m euros ($260m; £200m) for the player, more than doubling the previous record set when Paul Pogba returned to Manchester United from Juventus for £89m in August 2016.
But that very prominent deal was just the very visible peak of a huge industry, namely the international trade in football players, which is becoming more and more of a global business.
Latest data from Fifa, the sport's governing body, show there have been 15,291 international transfers so far in 2017, with total spending on players hitting a record $6bn (£4.58bn).
International transfers are ones where a player moves from one country to another, as opposed to domestic transfers which take place between two clubs in the same country.
That record figure - which is unlikely to change by the end of the year as player transfer windows in the biggest European leagues are not due to open again until January 2018 - is a 25% increase on the $4.8bn spent in 2016.
'Chinese spending'
"There are two driving factors behind the soaring spending," says Harry Philp, a football finance expert at London-based Portland Advisers.
"The first is the emergence of China and the huge transfer fees that they are prepared to pay, and the second is the fees English Premier League clubs can spend thanks to their ever more lucrative TV deals. These factors are driving up the value of the global market."
Indeed, Chinese clubs spent a whopping $451m on football players last year, an increase of 168%. That made them the fifth biggest spenders in the world after England - where clubs splashed out $1.37bn on global stars - Germany, Italy, and Spain.
"The rapid nature of this [Chinese spending] growth is unprecedented," observes Fifa. "One of the key objectives fuelling China's transfer drive is to raise the overall standard of football in the country so as to assist the national team in reaching the World Cup for only the second time in their history, following their debut in 2002."
There has been a huge increase in investment in Chinese football in recent years, kicked off by President Xi Jinping's plans to turn China into a great footballing nation, one that one day might host and ultimately win a World Cup.
Way out of poverty
Chinese clubs are investing almost exclusively on players coming from Europe, but not necessarily Europeans.
Many of those making a playing name for themselves in East Asia are South Americans, and Fifa's data shows Brazilians and Argentines are the most transferred nationalities globally.
"Irrespective of how their national team is doing, Brazil continues with its production line of young players for sale around the world," observes Mr Philp.
"It is a socio-economic phenomenon, with football still being a way out of the favelas and a means for a youngster to financially support his extended family."
Not only does Brazil produce talented players for export, with their stars now plying their trade in 118 countries, but their total financial accumulated sales value came to $594m in 2016, the most for any playing nation.
Free agents
Most of the transfers discussed in the global media involve large transfer fees, but in reality, only a small percentage of all worldwide transfers involve the payment of a fee.
The majority of deals are players who have become free agents finding a new club.
"Transfers out of contract remain the most popular type of international transfer," says Fifa. They are even more common for older players - in 2016, more than 90% of the international "transfers" of players older than 32 were out of contract.
Loan deals account for another proportion of transfers, and there have been accusations that clubs such as Chelsea, and to a less extent Manchester City, are scouring the globe for top young talent to stockpile.
"They are then put out on loan to see how they develop," says Mr Philp. " A small proportion will make it into to the first team, and the rest of the pool of talent can be sold on, usually at profit. This provides revenues for the clubs to then buy one global top star player, and also to assist in compliance with financial fair play.
"These clubs are trading players, almost running what I would call 'asset-management businesses'."
'Transfer madness'
In such a fractured landscape it all means that transactions such as Neymar's, where money changes hands, are actually in the minority.
"It is at the top level where the fees are being paid," says Mr Philp. "A club like Paris St Germain is spending so much money that they are accounting for a meaningful percentage of annual global transfer revenues."
He says that after splashing out 220m euros on Neymar, PSG is set to pay another 180m euros or so next year, when it makes permanent its current loan signing of Kylian Mbappe from Monaco. There have been suggestions that the Paris club has opted for a loan deal this year to get around financial fair play rules.
The financial fair play rules have been introduced by European football's governing body Uefa to ensure that clubs only spend cash on big-name star signings from revenues that they have created, rather than through borrowing or handouts from rich owners.
"Financial fair play is meant to control the transfer madness," says Mr Philp. "But if revenues are going up, whether through TV monies in the Premier League, or at PSG via Qatari investment - however that is being structured - then transfer fees and player wages will continue to climb.
"Financial fair play is still alive and kicking, but with revenues soaring then there is nothing to stop the global transfer trade going the same way."
With January transfer trading windows opening in the biggest five European leagues including England - as well as in China and Brazil - it means players, clubs and agents will already be gearing up for a frenzied period of global trading that could see spending leap even further ahead during 2018.