Credit Suisse to pay $135m to settle NY investigation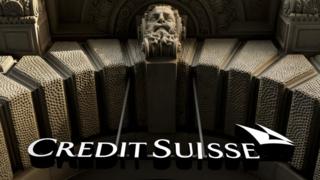 Credit Suisse has agreed to pay $135m (£103m) after New York regulators found its foreign exchange unit engaged in "unlawful, unsafe and unsound conduct".
The probe found traders at the bank improperly co-ordinated with other banks and traded on confidential customer information.
The agreement is the latest settlement to arise from a global investigation of foreign currency markets.
Credit Suisse said it was pleased "to put this matter behind it".
It did not admit or deny the findings of the investigation, but pledged to overhaul its policies to improve oversight and submit progress reports to New York regulators for review.
The New York Department of Financial Services investigation found the Credit Suisse misconduct occurred from at least 2008 to 2015.
The activities included using software programmed to trade in anticipation of client orders, in a practice called "front-running".
It also sometimes rejected client orders, delaying them to benefit the firm's profits, but attributing it to an "error".
Traders at the firm also participated in chat rooms, manipulating prices by co-ordinating activities with other banks.
"Smlls unethical haha" and "if custy ever found out we both dead." wrote a trader at another bank, after working with someone at Credit Suisse.
Seven people that investigators found were involved have resigned or been fired, according to the consent order.
Global investigation
Authorities around the world have levied some $10bn in fines against major banks for co-ordinating their foreign exchange activities, according to Reuters.
Credit Suisse also continues to face investigation by other regulators, including in Switzerland, Brazil and Europe, according to its most recent quarterly disclosure.
In announcing Monday's settlement, New York Financial Services Superintendent Maria Vullo said executives "deliberately fostered a corrupt culture" that led to the violations.
The department reached a $350m settlement with BNP Paribas over similar allegations in May.
The department also reached a $635m settlement with Barclays in 2015.