GE shares hit as dividend and profit outlook cut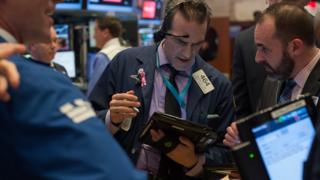 Shares in General Electric fell more than 7% on Monday after the US conglomerate announced a revamp that could result in a smaller company.
Under the plans, GE will focus on the aviation, power and healthcare sectors.
The company also cut its dividend - for only the third time in its 125-year history - and halved its full-year profit forecast.
GE was the biggest faller on the Dow Jones, although the industrial average closed up 17.49 points at 23,439.70.
The wider S&P 500 index rose 2.54 points to 2,584.84, while the Nasdaq index went up 6.66 points to 6,757.60.
Shares in Barbie maker Mattel jumped more than 20% after a report in the Wall Street Journal said rival Hasbro - which owns the My Little Pony and Monopoly brands - had made a takeover approach for the company.
Qualcomm shares rose 3% after it rejected a $103bn takeover bid from rival chipmaker Broadcom. Shares in Broadcom added 0.02%..