Lyft heads to Canada with Toronto service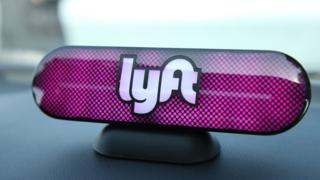 Lyft launch its ride-hailing app in Toronto next month in its first international expansion outside the US.
The company, which was once known for its pink-moustached cars, made the announcement on its blog.
The move follows aggressive expansion in the US, where Lyft has also benefited from problems affecting its rival, Uber.
The Lyft app is now available to 95% of the US population, up from 54% at the start of the year.
Lyft said its service would be available in Toronto "to help ring in the holidays".
The company said it was accepting applications for drivers, but did not offer additional details and did not respond to a request for comment.
Last year, Toronto approved rules that would allow ride-hailing services to operate, after earlier clashes between Uber, regulators and traditional taxis.
Big plans
Lyft was founded in 2012, and gained recognition using fuzzy, pink moustaches that decorated drivers' cars. although it has since abandoned that branding.
The company has been US-focused and in many cases has avoided the controversy that swirled around Uber as its larger rival expanded to dozens of countries abroad.
However, Lyft has bigger ambitions and has repeatedly met with London regulators. It has partnerships with Ford and General Motors, as well as with international ride-hailing apps such as India's Ola.
This year, Lyft has raised $1.6bn in financing, with contributions from the likes of Google parent company Alphabet's investment arm and Canada's Public Sector Pension Investment Board. The company says it is now worth $11bn.
It has also gained market share in the US, as Uber's reputation has faltered amid an outcry over its corporate culture and data collection practices.