Qualcomm rejects Broadcom takeover bid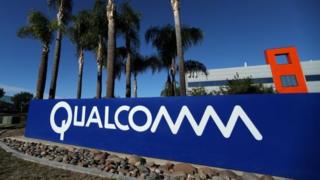 Computer chipmaker Qualcomm has rejected a $103bn (£79bn) takeover bid from rival Broadcom.
Qualcomm said the offer, which is potentially the largest tech sector takeover to date, "dramatically undervalued" the company.
It added that the proposal also came with "significant regulatory uncertainty".
Broadcom, which makes chips for products such as smartphones, was offering $70 per share for Qualcomm.
The bid comes at a time of consolidation sweeping the industry. Broadcom is waiting for regulatory approval to buy Brocade, while Qualcomm is in talks to buy NXP Semiconductors.
Meanwhile, Qualcomm is currently engaged in a legal battle over royalty payments with its biggest customer, Apple.
A tie-up between Broadcom and Qualcomm would create the world's third largest chipmaker behind Intel and Samsung.
Reacting to the news, Hock Tan, president and chief executive of Broadcom, said: "We continue to believe our proposal represents the most attractive, value-enhancing alternative available to Qualcomm stockholders and we are encouraged by their reaction.
"Many have expressed to us their desire that Qualcomm meet with us to discuss our proposal."