Moncler to push puffas off the catwalk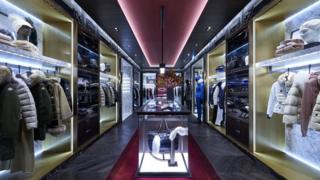 Upmarket outerwear brand Moncler, best known for its puffa jackets, has become the latest fashion company to announce it will no longer launch collections via the catwalk.
The company said it would instead mount more frequent brand launches from within its bigger stores.
Its jackets can cost about £1,000.
Chief executive Remo Ruffini also said Moncler's top designers, Giambattista Valli and Thom Browne, were leaving to work on their own brands.
Moncler's twice yearly shows, Gamme Rouge and Gamme Bleu, featured at the Paris and Milan fashion shows this year. There will be one more, for spring/summer 2018.
Mr Ruffini said: "The group must vary and open up towards different horizons."
Target market
A recent report on the luxury goods' sector by global consultants Bain, found a huge percentage of growth - 85% - in the luxury goods market was coming from the younger generation.
It also said that down jackets - Moncler's best-known product - were among the three standout categories in which luxury goods companies were hoping to appeal to younger customers.
Maureen Hinton, from industry analysts GlobalData, said the move towards store-based events made sense for the brand: "Moncler, despite being luxury, is primarily a casualwear brand, which means trends change less often than with full clothing ranges.
"Using events and social media is far more likely to engage with its target market and keep the brand front of mind throughout the year. And give a better return on investment."
Moncler was founded in France in 1952. Mr Ruffini took over the business in 2003, listing it as a public company in 2013. It now has annual sales of £1bn and has its headquarters in Italy.
In a statement, Mr Ruffini said: "I feel really excited about Moncler's future and the challenges that await us. I am all too aware that innovation, focus and dedication are vital for improving every brand and every company."