Deripaska float funds blacklisted bank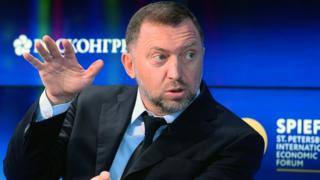 Tensions between Russia and the West are running high.
In the US, the Senate intelligence committee has said it is confident that Russia intervened in the US election.
In the UK, Damian Collins, the chair of the digital, culture, media and sport committee has written to Facebook chief executive Mark Zuckerberg, asking him to provide them with any information it has on politically-divisive advertisements purchased by Russian actors which may have influenced the Brexit vote.
A former British ambassador to Moscow, Sir Tony Brenton, said in July that in his long experience, the relationship between Russia and the West has "never been as dangerous as it is today".
Since Russia's annexation of Crimea in 2014, a sanctions regime against certain individuals and organisations has been in place, so it may seem curious that some business transactions and practices are getting a green light which many would imagine would be shown a red in the current climate.
For example, cash from the first sale of shares in a Russian company in London since the Crimea invasion in 2014 will be used to pay back debt to a bank that is sanctioned by both the US and European Union.
En+ is a Russian metals and energy company controlled by Oleg Deripaska, the Russian oligarch and Putin associate who was embroiled in controversy after entertaining George Osborne and Peter Mandelson on his yacht in 2008.
According to En+, the proceeds of the London share offering is expected to raise about £1bn.
Mr Deripaska is not a sanctioned individual. However, he has said publicly those funds will be used primarily to reduce the company's debts.
The Russian bank VTB is EN+ biggest creditor and also owns 4.35% of its shares.
VTB has been on the US and EU list of sanctioned organisations since 2014, which means it is prohibited from raising money in London.
The relevant bit of sanctions law is this. VTB Bank is subject to EU sanctions which say it cannot "directly or indirectly purchase, sell, provide brokering or assistance in the issuance of, or otherwise deal with transferable securities and money-market instruments with a maturity exceeding 90 days" issued by VTB Bank.
This rule was designed to limit certain Russian organisations and individuals access to New York and London, the world's fundraising capitals. When contacted by the BBC, the London Stock Exchange reiterated its view that VTB was only subject to EU sanctions on its own capital-raising.
An EN+ Group spokesperson said: "The intended use of proceeds by En+ does not breach US and EU sanctions... and complies with all relevant listing regulations."
While compliant with the sanctions, this IPO means funds raised from international investors in London by a Russian company will find their way to a sanctioned Russian bank.
Some will say this demonstrates the inadequacy of the sanctions regime. The City watchdog, the Financial Conduct Authority, told the BBC it will not comment on individual cases.
'Light-touch regulation'
The FCA is already under fire for its proposed relaxation of rules pertaining to state-owned enterprises such as Saudi Aramco.
Such moves were widely seen as accommodating the needs of the Saudi oil giant, which is looking for a potential foreign listing in a float that may value the company at up to $2 trillion.
The proposals also followed a visit to Saudi Arabia by the prime minister, accompanied by the chief executive of the London Stock Exchange. The head of the FCA, Andrew Bailey, recently told MPs he had also met company officials. Big financial centres are trying hard to impress in this lucrative beauty parade - too hard for some.
In an open letter, the Institute of Directors said it was concerned that "if implemented, the proposed changes could exert a detrimental impact on the reputation of the UK for sound corporate governance".
Other investor groups point to the experience of ENRC - the Kazakh mining company that the UK Listings Authority allowed to list its shares in London, even though the "free float" of shares - that portion available to be bought and sold by anyone - was below the usual 25% threshold.
ENRC ended up crashing out of the FTSE 100 amid allegations of corruption and is the subject of a Serious Fraud Office probe.
The sanctions regime is complex and allows for this listing just as it allows companies such as BP to partner with the giant, state-owned, Russian, sanctioned oil and gas producer Rosneft.
Nevertheless, the flow of funds from London to a sanctioned Russian bank may add to an already bulging in-tray of tricky questions for Andrew Bailey.
He has so far refused to publish the full report into allegations that Royal Bank of Scotland mistreated businesses that ran into difficulties after the financial crisis - despite intense pressure from the Treasury select committee chair, Nicky Morgan, and groups representing the businesses involved.
Mr Bailey oversaw the proposed changes to listing requirement for Saudi Aramco-type entities and is currently reviewing the conduct of Barclays chief executive Jes Staley for attempting to uncover the identity of a whistleblower.
As the ENRC episode illustrates, previous attempts to make London a go-to venue for international capital by offering so-called "light touch regulation" are seen by many to have been a mistake.
The Institute of Directors and other bodies say such a mistake risks being repeated - particularly if London has to try even harder to woo big international listings in a post-Brexit world.
When critics such as Labour leader Jeremy Corbyn warn of the UK becoming a bargain-basement financial centre off the shores of Europe, they do not mean bargain prices. They mean cuts to regulation.
No wrongdoing is alleged on the part of Mr Deripaska or En+, but this IPO comes at a time when Mr Bailey is under wider pressure to demonstrate that being "open for business" to the world does not come at the cost of softer regulation.