Savings: More banks fail to pass on rate rise in full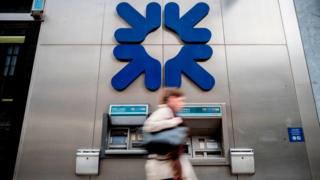 Three more banks have failed to pass on the full rise in base rates to savers, despite pleas from Number 10 and the Bank of England.
Royal Bank of Scotland, NatWest and Tesco Bank have announced their savings rates will rise by 0.2% or less.
That is despite last week's rise in base rates from 0.25% to 0.5%.
Both the governor of the Bank of England and a spokesperson for Number 10 have urged banks to pass on the benefits to savers.
The Royal Bank of Scotland group - which includes NatWest - said "the majority" of its accounts would pay more, with the average rise being 0.2%.
However, it would not say whether the 0.01% rate on its Instant Saver account would see any increase.
By contrast, the bank is increasing mortgage rates by almost the full amount.
Borrowers with Standard Variable Rate (SVR) mortgages will have to pay an extra 0.24% from 1 December.
Tesco Bank announced that it would increase its savings rates by 0.15%. However, at the same time it said it would only increase the rate on its SVR mortgages by the same amount.
"We believe our approach of increasing rates for both savers and mortgage holders is equitable and fair in balancing the interests of customers," said Benny Higgins, the chief executive of Tesco Bank.
About 20 providers out of 150 have so far passed on rate increases to savers, but many have not passed on the full amount.
Others are still waiting to make a decision.