Wall Street retreats amid tax cut debate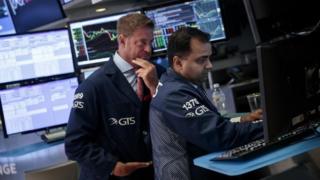 Wall Street indexes closed lower on Thursday, retreating after record highs in the previous session.
The fall came amid growing debate over the Republican push for business tax cuts, which had been one of the factors spurring a market rally this year.
The Dow Jones fell 101.4 points, or 0.43%, to 23,461.9 and the broader S&P 500 dropped 9.76 points, or 0.38%, to 2,584.6.
The Nasdaq fell 39 points, or 0.58%, to 6,750.05.
Lawmakers are working on a bill to cut the corporate tax rate from 35% to 20% and overhaul how overseas profits are treated, creating cash that many expect to go to shareholders.
But they are grappling with how to pay for the cut.
The Senate version of the bill, which was released on Thursday, would postpone the cut for one year, instead of going into effect immediately as stipulated in the House proposal.
Financial and technology stocks, among those that would benefit from tax changes, were among the sectors that ended the day lower. Apple edged down 0.2%.
Analysts said they still saw room for stocks to rise higher, given the strong sales and earnings many companies have reported this quarter.
"At present, with wages firming, housing being stable, and sentiment appearing mostly constructive, the backdrop appears favourable for the upcoming holiday season," said Terry Sandven, chief equity strategist at US Bank Wealth Management.
Department stores, which have struggled this year as competition from online retailers increases, also moved markets.
Shares in Kohl's Corp rose 0.9%. The retailer reported profits of $117m for the third quarter, down 20% from a year earlier, but the firm said sales at stores open at least a year had increased.
Rival department store chain Macy's saw same-store sales fall 3.6% in the third quarter, but the company's shares increased almost 11% after its profit of $36m beat estimates and it said it expects a strong holiday season.