Burberry plans to move further upmarket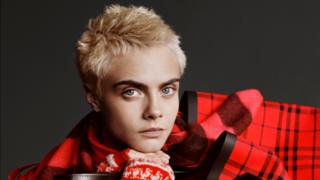 Luxury goods retailer Burberry, best known for its trench coats and distinctive check pattern, is to close some stores and withdraw from outlets that are not upmarket enough.
The new strategy was announced along with its half-year results, which showed like-for-like sales up 4% and a 24% rise in operating profits to £127m.
Burberry said it had made £20m in cost savings, taking cuts so far to £40m.
Shares fell 12% on the news before recovering to close nearly 10% lower.
The luxury retail sector had changed and the "luxury consumer demands innovation, curation and excitement from brands and creativity at every turn," Burberry said in a statement.
"To win with this consumer, we must sharpen our brand positioning."
It intends to close an unspecified number of non-luxury retail and wholesale stores, as well as refurbishing other stores.
Burberry is in the middle of a major cost-cutting exercise under which it aims to make a total of £100m in savings by the 2019 financial year.
Earlier this year, it announced it was relocating 300 jobs from its London offices to West Yorkshire as part of the cost-saving measures.
Thursday's' announcement comes just nine days after Burberry's chief creative officer Christopher Bailey, who has been with the brand for 17 years, announced that he would leave the company at the end of 2018.
Steve Clayton, manager of the Hargreaves Lansdown Select UK Growth Shares fund, which owns shares in Burberry, said the plan made made sense and was "a text-book luxury brand repositioning exercise", which would propel Burberry upmarket and boost profit margins.
However, he, added: "this will take time and in the near term, sales growth will be held back and the group must invest more to achieve its goals".
Ken Odeluga at City Index also agreed that Burberry's strategy update made sense, but said it was "essentially a profit warning".
"Chief executive Marco Gobbetti, renowned in the luxury world... appears to offer a lower hurdle for near-term performance than investors expected."