Sainsbury's boss says UK 'through the worst' of weak pound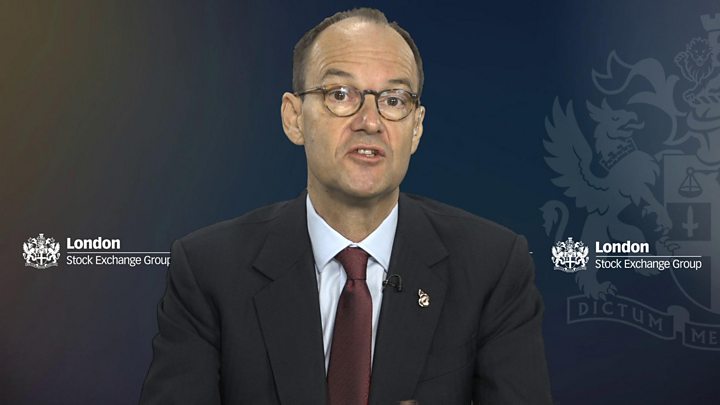 The boss of Sainsbury's has said the UK is "probably through the worst" of a weaker pound fuelling food inflation.
After years of deflation, Brexit currency movements meant there had been a "little bit of food price inflation" this year, chief executive Mike Coupe told the BBC.
But he said food prices this Christmas would still be "about the same as they were two years ago".
His comments came as the retailer reported a 9% fall in interim profits.
However, the decline was not as bad as expected and sales rose.
The UK's second largest supermarket chain said profits came in at £251m in the 28 weeks to the 23 September, while like-for-like sales excluding fuel went up by 1.6%.
It said the fall in profits was due to price cutting, wage cost inflation and the consolidation of Argos.
Chief executive Mike Coupe said he was "very pleased with progress".
'Relatively limited'
The value of sterling has fallen sharply since last year's Brexit referendum, pushing up the cost of imports.
Initially, retailers were protected against those increased costs because they buy in advance, but more recently they have felt the effects of the currency devaluation.
However, Mr Coupe said the "impact on customers had been relatively limited".
He said the retailer was aiming to limit price rises, despite the recent pick-up in inflation.
"Food price inflation as measured by the government is around 2% and inevitably the things that we import - so they tend to be things like fresh foods - get a little bit more expensive on the back of that," Mr Coupe said.
"But we're probably through the worst, if the truth be told, and actually even today's prices are about the same as they were two years ago, so we as a business have done a very good job of protecting our customers from the more extreme challenges of inflation and the currency movements."
The supermarket chain took over catalogue retailer Argos and Habitat last year in a £1.4bn deal.
In the past six months, Sainsbury's has opened a further 73 Argos concessions in its stores, bringing the total to 112. It plans to have 165 by Christmas.
Mr Coupe said: "We have delivered a good performance across the group in the last six months.
"We are now three years into delivering our differentiated strategy and are seeing clear results."
Cost cutting plans
Sainsbury's is looking to make cost savings amid fierce competition from discounters and rising food costs.
It says it has exceeded its cost savings target and will have managed to have saved £540m over the three years to the end of the current financial year. It also plans to make a further £500m of savings during the next three years.
Mr Coupe said the chain was continuing to "focus on offering our customers great value, supported by our removal of multibuys".
He was also asked whether discounters such as Aldi and Lidl were still making inroads into Sainsbury's customer base.
"We have always worked on the assumption that the discounters will continue to grow... but we have planned our business on that basis and the way our customers are shopping is changing.
"They're shopping with us more frequently and you can see that in our convenience store business - it's grown at 8%, they're shopping online, that's grown at 7% and increasingly they're shopping non-food with Sainsbury's, so for instance, our clothing business grew by 7%."
'Muted' improvement
The company said its full-year profit forecast remained "in line" with market expectations.
However, Sainsbury's share price fell more than 3% following the release of the results. It subsequently recovered some ground and closed 2.1% lower.
Molly Johnson-Jones, senior Retail Analyst at GlobalData, said Sainsbury's "momentum" from the first quarter had not been maintained.
"Of all of the grocers, Sainsbury's improvement seems the most muted, and a focus on profitability must be maintained in order to prevent further investor discontent."