Some savers 'worse off' as banks fail to pass on rate rise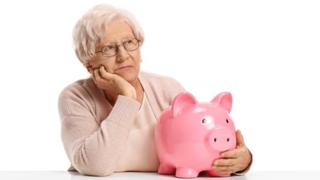 Seven days after the rise in base rates, just 17 out of 150 providers have passed on improved returns to their savers.
The Bank of England raised rates by 0.25% to 0.5% last Thursday, the first rise in a decade.
Many banks are still considering whether to pass on the benefits.
But even if their provider does choose to increase rates in full, some savers will still find themselves worse off than when rates were last at 0.5%.
NS&I is among the providers that have announced an increase. The returns on all its variable rate products, including premium bonds, will rise by 0.25% from 1 December.
'Worse off'
However Virgin Money actually cut savings rates on one of its ISAs on the same day that the Bank of England was raising rates.
Those with Virgin's ISA Saver saw rates reduced to 0.75% last Thursday.
That compares to an interest rate of 1.3% when base rates were last at 0.5% in August 2016, leaving savers worse off.
Another Virgin ISA, the Defined Access E- ISA, now pays just 0.51%, compared to 1.56% last August.
"Some people could be worse off than before the base rate was cut last year," said Tom Adams of consumer website Savings Champion.
It comes in spite of a plea by the governor of the Bank of England for banks to pass on the benefits of the rise.
Poor deals
According to Savings Champion, Virgin Money is not the only provider whose rates have fallen since August 2016.
Savers with the Clydesdale and Yorkshire Banks currently receive as little as 0.2% a year on a Flexi Cash ISA.
Even if those banks do pass on the rise in full, savers will only get 0.45%, less than the 0.7% return they were getting 15 months ago.
Nationwide has promised to pass on the 0.25% rise to all savers whose rates were cut by 0.25% in 2016.
Nevertheless customers who had a Flexclusive ISA Issue 10 will now expect to get a 1% return, compared to 1.5% last year.
Santander has announced that it will not raise the 1.5% credit savings rate on its popular 123 account.
It will raise rates on some of its savings products from 4 December, but most adults will not see the 0.25% passed on in full.
Lloyds has also announced that it will increase savings rates, but most of its customers will see a rise of just 0.15%.
Virgin Money said customers were warned about last Thursday's ISA rate cut back in July. Because it is a 120 day notice account, savers had to be told four months in advance.
Virgin also said it had paid rates that were above the market average over the last few years.
Mortgages
By contrast, lenders have been quick to raise the cost of mortgages.
Most customers with tracker mortgages have seen an immediate rise of 0.25%.
So far 20 banks have announced increases to their Standard Variable Rate (SVR) mortgages, including Barclays, Halifax, Lloyds, Nationwide, Santander and TSB.
HSBC, Royal Bank of Scotland and NatWest are still considering their plans.
"Although not all are increasing their rates that may well be because they didn't pass on the last cut, so borrowers should still be considering whether they could be getting a better deal by shopping around," said David Hollingworth, associate communications director at London and Country Mortgages.
"Those that have been eyeing a fixed rate will also have begun to notice that fixed deals have already been nudging up."
TSB, Metro, Tesco and Atom Bank are among those whose fixed rate products have gone up, although this will only affect new customers.