IndiGo airline apologises for passenger altercation on tarmac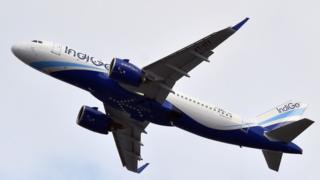 India's biggest airline IndiGo apologised to a passenger after video emerged of him being tackled by staff.
The video released on Monday allegedly shows IndiGo staff manhandling the passenger on the Delhi airport tarmac last month.
It has sparked public outcry on social media and has been televised widely on local news channels.
The government has launched an investigation after a minister said the incident was "unacceptable".
In the video, two IndiGo staff members can be seen pinning the passenger to the ground after an argument erupted.
The male passenger - identified by the airline as Rajiv Katiyal - shouts and attempts to fight back but is overpowered by the IndiGo employees.
The BBC could not independently verify the authenticity of the video.
Media reports said the passenger was later taken to a police station where the airline threatened to file a complaint against him.
"This is absolutely unacceptable," Jayant Sinha, India's junior minister for civil aviation told India's Times Now news channel.
'Out of line'
The private airline owned by InterGlobe Aviation has taken to Twitter to publicly apologise to Mr Katiyal for the incident.
"Whatever may have been the provocation, our staff were completely out of line and didn't follow laid down procedures," said IndiGo president Aditya Ghosh.
He stressed the behaviour was "unacceptable" and said the airline condemned "the actions of our staff and have taken stern action".
Mr Ghosh said "the main culprit" was immediately terminated, though it's not clear which employee he is referring to.
IndiGo, India's largest airline by passengers, has been asked to submit a report on the incident to the aviation ministry by Wednesday.
The government said it would determine what action to take after the report is filed.
New rules were recently implemented in India to prevent troublesome passengers from flying for up to two years after a lawmaker admitted assaulting an airline official.
Trouble onboard
The low-cost Indian airline is not the first to draw public scrutiny after an incident involving its treatment of passengers.
United Airlines faced an explosive backlash after a video emerged showing a man being dragged from an aircraft in Chicago after he refused to give up his seat.
Chief executive Oscar Munoz later apologised to the passenger, Dr David Dao, and said he felt "shame and embarrassment".