The Rotherham High Street struggling to survive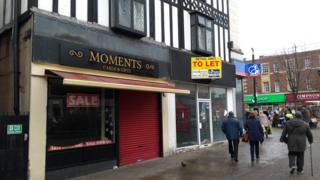 As the latest retail industry figures show a sharp slowdown in non-food retail sales, we take a look at the problems one High Street in Rotherham is facing.
There's an early morning bustle at Fitzwilliam & Hughes, a Rotherham cafe overlooking the Minster and its gardens.
It's a corner plot in a listed building, it feels like a choice spot, but co-owner Matthew Leather is glum about the town.
"So many businesses have come and gone in the three or four years we've been here. There isn't the footfall or the attractions in Rotherham so they've not been able to last. If I didn't have a business in Rotherham I wouldn't come because there's nothing to attract you."
Rotherham Borough Council says it's working on that. A masterplan includes a new area called Forge Island with bars, restaurants, apartments and a cinema down by the river and construction has started on a new university campus.
The council's regeneration director Damien Wilson says it's aiming to bring "more investment and more people living, working and socialising in the town centre - it's a long-term plan".
Unemployment is higher than the national average at 5.6% and the town centre's shop vacancy rate stands at about 23% - that's nearly a quarter of the retail space.
Non-food sales in slowest growth on record
How a family shop has lasted 150 years
The main pedestrianised retail area has the usual mix of national names, banks, bookies, vaping shops and "To Let" signs. There's even Jamie Oliver's Ministry of Food unit, which launched as a healthy eating project on the back of a TV series, but it closed this year and stands empty, next to another vacant unit.
'We need the big retailers'
The big retailers are conspicuous in their absence. Primark is leaving the High Street for the out-of-town Parkgate Shopping Park which is also home to M&S and Next.
Chris Hamby, who sells shoes and antiques in the High Street and rents several other shops, is enthusiastic about Rotherham's potential but he says the town needs those big retail names.
"People like independent shops but you need a lot of crumbs to make a cake, you need a lot of people to come.
"As towns are evolving and changing you'll see a big store go and a shop will open selling a few candles, or a supermarket will go and someone will come selling dreamcatchers. That's not a town - we need the big retailers back."
Independent shopkeepers have long since complained that pressure from business rates has left them on the edge. A revaluation in April pushed up bills in some parts of the country, but in Rotherham rateable values fell by 2% on average.
Andrew Roddison is one of those who's benefitted. His Whistle Stop Sweet Shop and Temperance Bar in the Imperial Buildings now qualifies for full rates relief, and it's made a big difference.
"Some months the money wasn't there so for us - and a lot of businesses locally - it was a head scratching time as to whether you can afford to stay open. Now that pressure's gone it does make a difference, it allows you to invest and bring in new lines that will hopefully attract people."
Dannii Paston, who runs clothing and gift shop Yella Brick Road on the High Street, doesn't pay rates and is happy with her rent, but she thinks "ridiculous" rent demands from some landlords are the fundamental reason behind empty units.
"It's as if they're out of touch with what people are taking through the tills. In general the council-owned buildings are full and the ones that are empty are private landlords.
"A lot of them don't live around here so they've got no idea of the feeling, and the customers. They might live in London and think, 'I'm not reducing it from £20,000, that's cheap'."
She's also noticed the impact of the Brexit vote. "It was strange, like a switch. When Brexit was voted in, it just went down, I can't really explain why that might be.
"We lost a member of staff because of it, and three of our suppliers are in Europe so the exchange rate really affected us. For us it was the pound, I don't know what it could be with the customers. Maybe they were worrying and tightened their belts."
It's Friday lunchtime and the Holy Ghost Tattoo Collective is busy with people getting tattoos and piercings.
"We're doing really well, I think we're probably one of the few that are thriving in Rotherham," says owner Emily Dawson.
But she thinks some of the town's problems are linking to one perennial problem. "They need to focus on parking, that's a big issue, because it's very expensive to park when there's not a lot to offer other than our independent shops, which are amazing."
Many of the problems Rotherham's shops are facing are mirrored in towns across the UK and the solutions are not immediately obvious.
As the council's regeneration director Damien Wilson says "change will not happen overnight".