Ryanair buoyant despite cancellations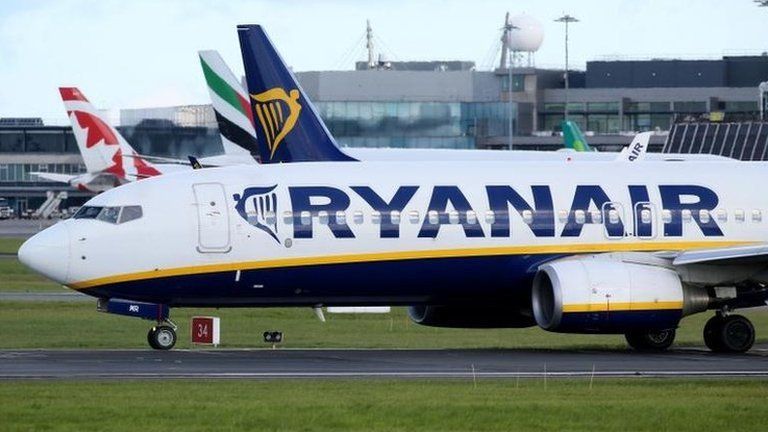 Ryanair has said it still expects to make record annual profits this year, despite disruptions to its schedules that led it to cancel 20,000 flights.
The Irish airline said it made profits of €1.29bn (£1.14bn) in the six months to the end of September and forecast a full-year profit of up to €1.45bn.
Chief operations officer Michael Hickey resigned following the mishap.
The cancellations arose because pilots' rosters had to be changed to comply with new aviation rules.
Ryanair's shares closed 6.39% higher at €16.82 each.
The flight cancellations were announced in September and would not have made much difference to the first-half profits.
However, rival airlines have reported an increase in bookings following the cancellations, as passengers were afraid of the effect on future Ryanair flights.
Ryanair's chief financial officer Neil Sorahan said he was "absolutely confident" that the airline would have enough pilots and standby pilots for next summer.
Mr Sorahan said the rostering problem was caused by human error, not a systems failure.
He said pilots at 10 of its 86 bases had approved a new pay deal and that management continued to engage with pilots.
The airline said its new deal offered "materially higher" pay, "with better career prospects, superior rosters and much better job security than Norwegian, among others can offer."
It said pilots based at Dublin and Stansted airports would be earning 20% more than at Norwegian.
It added that these measures "will not significantly alter the substantial cost advantage we have over all other EU airline competitors".
Aviation expert John Strickland of JLS Consulting told the BBC that Ryanair chief executive Michael O'Leary wanted to "nail" stories about the number of pilots who were leaving for rival airlines.
He added that Ryanair was "a big Boeing 737 operator - it's the same aircraft type and that is a straight 'walkover for crew', so if crew perceive that life is better at Norwegian, either financially or in terms of working arrangements, they can go there."
Mr Strickland said Mr O'Leary wanted to persuade crew that Ryanair was paying better and had "far better" financial prospects.
Ryanair said it had reduced fares by 5% in the first half of the financial year and that fares for the second half would fall by between 4% and 6%.
Mr O'Leary said: "These strong H1 results reinforce the robust nature of Ryanair's low fare, pan-European growth model, even during a period which suffered a material failure in our pilot rostering function."
He denounced what he called "misinformation about Ryanair promoted by competitor pilot unions", saying: "The reason they wish to denigrate Ryanair is because their airlines cannot compete with us."
He said: "We will continue to work hard to deliver for our people, our customers and our shareholders while these competitor unions will continue to rail and fail."