Ford profits jump but China challenge remains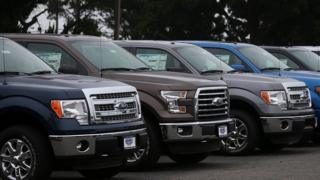 Strong pickup truck sales in North America boosted profits at Ford in the third quarter, but the US car maker still faces an uphill battle in China.
The firm had profits of $1.6bn (£1.2bn), up more than 60% compared to the same quarter last year, when a recall raised costs.
The gains in the US came despite a slowdown in sales of new cars there.
Ford has looked to strong demand for pickup trucks and sports utility vehicles (SUVs) to keep sales steady.
A large part of the company's profits came from its F-Series pickup trucks, which have been the best-selling vehicle in North America for decades.
Ford said the average transaction price for its trucks rose $2,800 to $45,400.
But the firm is feeling pressure to boost its share price, which has drifted lower in recent years.
Investors say Ford is behind when it comes to self driving car technology and has not made strong enough inroads in China - the world's largest vehicle market.
China challenge
The firm said in September that it had sold about 833,000 vehicles in China in the first nine months of the year, down about 5% compared to the same period in 2016.
By contrast, rival General Motors and its joint venture partners sold more than 2.7m cars in the first nine months, up about 1%.
Ford told investors it sees "enormous opportunities" to improve its performance of its Asia Pacific division, including in China.
In August, Ford said it was exploring a joint venture with Zotye, a local firm focused on electric vehicles.
But it warned investors that competitive pressure to keep prices low in China and the rising cost of raw materials may limit profit margins in coming months.
Ford revenue in the three months to the end of September was $36.5bn, up 1% year-on-year.
Ford chief executive Jim Hackett, who was installed this spring, said the firm is investing in autonomous vehicles and will start to test-drive cars in some US cities next year.
Ford also is developing new business partnerships with unnamed companies to use its self-driving vehicles in commercial applications other than ride hailing, Hackett said.
He declined to confirm whether Ford still planned to put those vehicles into service by 2021, executives have said.
Rival General Motors Co said in recent weeks it plans to accelerate the commercial application of its self-driving Chevrolet Bolts, some of which could be in operation before 2020.
GM also plans to introduce 20 electric vehicles by 2023.
Shares in Ford rose 0.8% in morning trade after the results were released.