Earnings fall for first time in three years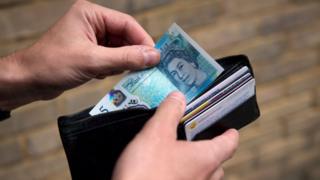 Official figures show wages fell in real terms by 0.4% in the year to April 2017.
The Office for National Statistics (ONS) said this was the first fall in three years.
It says that although wages rose by 2.2% in the year, inflation rose by more, eroding any gains. The median - middle - amount earned was £550 a week.
Other data shows a narrowing of the gender pay gap to 9.1%, its smallest since the survey began in 1997.
The weekly income figure shows the first recorded fall since April 2014, and follows a rise in inflation in the wake of the Brexit vote in June last year.
Earnings, not adjusted for inflation, rose in 2017 by more among the lowest-paid workers.
For those in the lowest 10%, full-time earnings rose by 3.5% compared with 2016.
The percentage of those earning less than two-thirds of median hourly earnings has edged down from 19.4% in 2016 to 18.4%.
Full-time workers in London are paid the most, on average, with a weekly wage of £692.
Wales, the North East, Northern Ireland, Yorkshire and the Humber, and East Midlands all have, on average, £500.
Gender 'chasm'
ONS statistician Roger Smith said: "This year saw the joint highest rise since the economic downturn in 2008, in cash terms.
"However, higher inflation meant real earnings were down overall on the year for the first time since 2014.
"This wasn't the case for everyone, though - the lowest paid 10% of workers and those in some regions like the East Midlands still saw real increases, while other areas saw decreases."
The TUC's general secretary, Frances O'Grady, said: "The full-time gender pay gap has inched a bit smaller but there is still a chasm between men and women's earnings.
"At this rate, it'll take decades for women to get paid the same as men."
Six months after the government ordered large firms to reveal their gender pay gaps, the majority have yet to publish their figures.
Charities, private and public sector employers with 250 or more employees must publish their figures by April 2018, in a bid to tackle workplace discrimination.
Ms O'Grady said the government should "crank up the pressure on employers" and that, as well as publishing their gender pay gaps, companies should be forced to explain how they will close them.
The Minister for Women and Equalities, Justine Greening, said: "Eliminating the gender pay gap is key to building a stronger economy where everyone plays by the same rules.
"It is simply good business sense to recognise the enormous potential of women and to take action to nurture and progress female talent."