Kobe Steel loses quality seal for copper products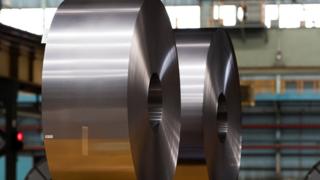 Kobe Steel is losing Japan's quality seal for copper products, following its data falsification scandal.
Kobe said the government-backed Japan Industrial certification was revoked owing to "improper quality management" at a factory outside of Tokyo.
As a result, the quality of copper products made at its plant in Hatano will no longer be certified by Japan.
The decision could further hurt Japan's third-largest steelmaker as its clients have been switching to its competitors.
Shares in Kobe Steel fell 1.5% after it said it would lose its Japanese Industrial Standards certificate.
According to the Reuters news agency, the firm believes there could be four new cases of data falsification.
But Kobe Steel has confirmed the safety of products delivered to nearly half of the 525 clients which had received products affected by the falsified data.
Car, plane and train makers including Boeing, Toyota and Nissan have been striving to ensure the safety of their own products.
The firm added that none of its customers had found any cases requiring their products to be recalled.
Kobe Steel's troubles began earlier this month, when it admitted faking data for more than a decade on the quality of some of its products.
Since the scandal emerged, Kobe Steel's shares have fallen close to 38% including the latest drop on Thursday.