Singapore Airlines signs $13.8bn Boeing deal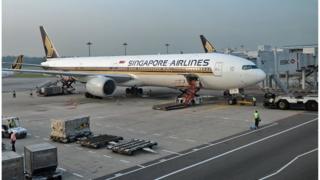 Singapore Airlines has finalised a deal worth $13.8bn (£10.4bn) to buy new Boeing aircraft to modernise its fleet over the next decade.
The carrier will purchase 39 aircraft, including 777-9 and 787-10 models.
The previously announced deal was signed at a White House event with Singapore's prime minister on Monday.
Airlines typically receive discounts on jet orders, meaning the carrier is likely to pay much less than the listed price.
The value of the deal is likely to be closer to $6.5bn, Reuters reported.
The order includes 20 777-9 models, intended primarily for long-haul routes, and 19 Dreamliner 787-10 planes. The first 787 will be delivered next year.
Singapore Airlines said that the new Boeing jets would give the carrier "new growth opportunities, allowing us to expand our network and offer even more travel options".
The airline already has more than 50 Boeing 777 aircraft in service, and last year decided not to continue leasing an A380 from Boeing main's rival, Airbus.