McDonald's serves up surging sales and profits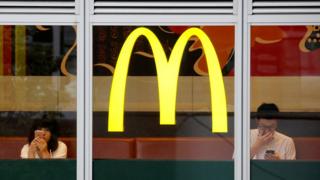 McDonald's has reported better than expected sales in the third quarter as it pushes back against competitors such as Chipotle and Burger King.
The fast food giant's revenues fell 10% to $5.75bn in the three months to September after selling Asian restaurants.
However, US sales jumped 4.1% and global sales rose 6% after strong rises in the UK, Canada and Asia.
The results follow changes including menu tweaks and mobile delivery.
Net profit jumped almost 48% to $1.9bn compared with the same quarter last year.
That included a gain of about $850m from the sale of China and Hong Kong businesses to franchising companies.
Aggressive promotional strategies in the US, which included offering McCafe beverages for $2, have helped McDonald's take on competitors such as Starbucks.
As more consumers shun processed food, the firm has introduced healthier menu options.
It has also focused on modernising restaurants, as well as ordering and delivery systems, highlighted by a partnership with food delivery app UberEats.
"Improvements to restaurants are helping to shift perceptions of McDonald's," said Neil Saunders of Global Data Retail.
"Refurbished locations project a modern image and are also spaces that help attract new diners, especially family segments and younger age groups."
McDonald's chief financial officer Kevin Ozan said the company had also completed refranchising 4,000 restaurants in China and Hong Kong more than a year ahead of schedule.
Although the refranchising programme had hit revenues, it was expected to cut costs and increase profits due to higher rent and royalty payments.
Chief executive Steve Easterbrook said the latest results demonstrate "broad-based momentum throughout our business".
McDonald's shares rose about 1% in New York and have risen more than a third this year, valuing the company at more than $133bn.