InterContinental Hotels sales boosted by Europe tourism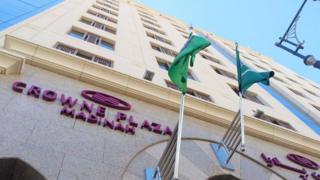 InterContinental Hotels Group said sales rose as the effect of terror attacks in key markets wore off.
Revenues per available room, a key indicator for the hotel industry, increased by 2.3% in the third quarter.
The Holiday Inn owner expanded its hotel offerings by the fastest rate in almost a decade, it said, as it ramped up international expansion.
Sales in Europe rose by 7.1%, while those in the US increased just 0.8% as hurricanes battered the region.
"Hurricanes Harvey and Irma had a mixed impact," the group said in a trading update.
"Displacement activity, together with the relief and reconstruction efforts, benefited our franchise business; but performance across the managed estate was negatively impacted by the cancellation of group bookings at some hotels."
'Confident' outlook
Markets previously hit by terror attacks, such as France, Belgium and Turkey, enjoyed strong growth. Southern Europe was also boosted by higher demand during the summer months.
Revenues from China increased 7.8%, buoyed by stronger demand for leisure services in Macau.
"Despite macro-economic and geopolitical uncertainties around the world, we remain confident in the outlook for the remainder of the year," said group chief executive Keith Barr.
InterContinental has expanded its room offering by 20,000, bringing the number available up to 235,000.
The results were "reasonable" and had put the company on track to meet full-year earnings forecasts, said Anna Barnfather, an analyst at Liberum.