Saudi Aramco said its flotation remains on track for 2018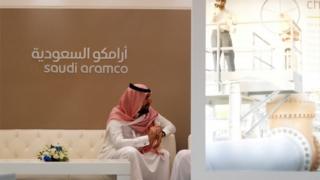 Saudi Aramco has insisted that its plans for what is likely to be the world's biggest stock market listing remain on track.
There are reports Aramco might shelve the initial public offering (IPO) in favour of private share placings.
But the state-owned oil giant said the timing for a £1.5 trillion dual listing on the Saudi and an international stock market was still scheduled for 2018.
The London Stock Exchange is wooing Aramco, but the move is controversial.
Over the weekend the Financial Times reported that Aramco was considering halting a flotation in favour of selling shares privately to the world's biggest sovereign wealth funds and institutional investors.
The sale of a 5% stake in Aramco is central to the Saudi government's economic reform plans. But a share listing would open the company to greater international regulation and scrutiny.
In the UK, MPs have expressed concern that regulators are prepared to water down corporate governance rules in order to accommodate the huge Aramco flotation.
City regulator held Saudi Aramco talks
What's the fuss about Saudi Aramco and the London market?
MPs seek answers on Saudi Aramco listing
New York is another possible listing destination, but the FT said some members of the Saudi royal family are worried about legal risks, citing US terrorism legislation that would allow citizens to sue Saudi Arabia.
Aramco dismissed talk of shelving the flotation as "entirely speculative". The company said on Twitter: "All listing venues under review for optimal decision, IPO process is on track for 2018."
A company spokesman said later: "A range of options for the public listing of Saudi Aramco, continues to be held under active review... No decision has been made and the IPO process remains on track."
London's listing rules state that more than 25% of a company's shares should be listed. The idea is to ensure there is enough liquidity for investors to buy shares.
But Aramco plans to sell just 5% of the company, raising concerns about London having to bend the rules.
On Friday, the head of the Financial Conduct Authority, the City's regulator, admitted to meeting Aramco officials earlier this year to discuss a listing review.
Andrew Bailey said: "We can confirm that we held conversations with Saudi Aramco and their advisers in light of their interest in a possible UK listing in the early part of this year.
"We emphasised during those conversations that we were reviewing the listing regime."
Mr Bailey was writing in response to a letter from Nicky Morgan, chair of the Treasury Committee.
She said in her letter that "questions remain about the level of political involvement in the consultation... The UK's world-class reputation for upholding strong corporate governance mustn't be watered down."
The comments come as the government seeks to demonstrate that the UK is a good place to invest as Britain prepares to leave the European Union.