Bond trading slump hits Citigroup and JP Morgan Chase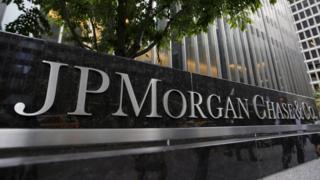 Two of America's biggest banks have been hit by a drop in bond trading revenue in the three months to September, but profits still rose.
JP Morgan Chase profits rose 7% to $6.7bn (£5.1bn) compared with the same period last year, while Citigroup profits were up 8% at $4.1bn.
The banks had warned that trading revenues would be weaker compared to a post-Brexit surge last year.
The banks' shares slipped in early trade on the news.
Executives at both banks said they were encouraged by increasing strength in the global economy and were seeing benefits from gradually rising interest rates.
However, both banks took a hit from recent natural disasters. JP Morgan said it expected recent hurricanes in the US to lead to about $55m in losses, while Citigroup predicted about $100m in losses, including the impact from earthquakes in Mexico.
The two are also setting more money aside to cover credit losses, although executives at both banks told analysts they were not worried about the economic health of consumers.
JP Morgan chief executive Jamie Dimon said: "The global economy continues to do well and the US consumer remains healthy with solid wage growth."
Increased lending
Revenues at JP Morgan rose 2.7% to $26.2bn, as revenue from trading fell 21% year-on-year.
However, profits were lifted by its consumer and retail lending division, which benefited from higher interest rates and strong credit card sales and payment processing.
At Citigroup, revenues were $18.2bn, up 2% from a year earlier, helped in part by its international consumer business.
The bank said revenue from fixed income trading fell 16%, but unlike JP Morgan its revenue from equities trading was higher.
Both banks beat profit expectations, but analysts were not expecting their shares - which have gained this year - to change significantly.
Citigroup share prices have increased 20% since January, while shares in JP Morgan have risen by about 10%.