Wall Street hits another record close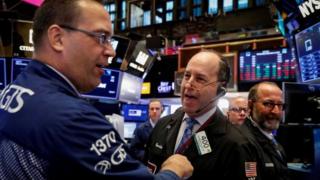 Wall Street hit record highs on Wednesday, resuming an upward march led by sectors such as property and technology.
Stocks also gained after minutes from the Federal Reserve's September meeting showed some officials worried about lagging inflation.
The Dow increased 42.21 points or 0.18% to 22,872.89, while the wider S&P 500 rose 4.6 points or 0.18% to 2,555.24.
The Nasdaq added 16.3 points or 0.25% to 6,603.55.
Analysts said they think the Fed will move to raise interest rates in December as expected, but the minutes showed some policymakers want to see stronger inflation before taking action.
Shares in real estate companies, one of the industries most directly affected by lower borrowing costs, saw some of the biggest rises on Wednesday.
The markets also reacted as companies started to share results from the most recent quarter.
On Thursday, Delta Air Lines rose 0.7%, after it reported nearly $1.2bn in profits, despite incurring $120m in losses as travel was disrupted by major hurricanes.
But the firm warned that higher fuel prices would put pressure on profits in the next quarter.
Supermarket chain Kroger jumped more than 1% after it said it was exploring a sale of its US convenience store business. Kroger operates nearly 2,800 stores, of which about 780 are convenience shops.