Women put off by 'aggressive' money advice, report says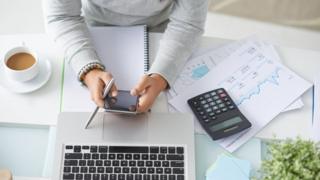 The world of financial services is "aggressively masculine" and puts women off buying mortgages, pensions and investments, according to a report.
Research firm Kantar spoke to 30,000 women and concluded that financial advice is largely "a man's world".
The report claimed some women feel "diminished" when talking to a financial adviser.
In response, the boss of the Personal Finance Society said his organisation was "committed" to gender parity.
"The sector recognises that more needs to be done to inspire public trust and bring down some of the barriers and negative perceptions," Keith Richards, chief executive of trade body the Personal Finance Society, said.
But Amy Cashman, the report's lead author, said women were often being ignored when talking to financial experts.
She said in one case, a male mortgage broker spoke only to the husband, and ignored the woman, so the wife did not let the sale go through.
"If anything, women are seen as more competent than men in managing everyday finances," Ms Cashman said.
"But where you see the difference is when you get into higher value products - things like savings vehicles, investments, pensions."
Pin-striped suits
Mortgage broker Rebecca Robertson, who has worked in the industry for almost two decades, agrees that a "car salesman-type environment" is off-putting for women.
"The perception is that the man in the pin-striped suit is going to sell them a load of stuff," she said. "A lot of women just avoid them."
Kantar said women they interviewed thought financial experts, such as advisers and mortgage brokers, were "arrogant and untrustworthy" and "living in a different world".
As a result, women were more likely to keep their money in the bank - potentially losing financial services organisations a £130bn opportunity "by not winning over women".
Ms Robertson, who founded a financial planning firm run by women advisers in 2011, Evolution For Women, said her female clients felt condescended when getting advice in the past.
"Typically they are scared of asking a 'silly' question and felt they weren't valued, even with simple things like getting a call back," she said.
"That arrogance needs to be left at the door - whether it's a female or a male adviser - people just want to be treated with respect."
Kantar's report also said women think about money differently - they see relationships and family life as more important when dealing with finances, whereas men pay more attention to products and prices.
Alison Treharne, a financial adviser at Shore Financial Planning in Plymouth, said: "When there's a meeting women are more worried about their children".
"Female clients are slightly more bothered about the next generation, and how they will look after money."
But she said "crux of the matter" was getting more women giving financial advice: "I'd love to work out how to get more women in this industry, it's fab to work in."
One estimate suggests just one in 20 independent financial advisers (IFAs) are women.
Ms Treharne said: "I have a high percentage of female clients and I think it's because they look for someone who 'speaks their language.'"
But she adds: "The industry has got a track record of mis-selling scandals and of course that makes people wary, men and women included."