Nuclear clean-up 'failures' cost £122m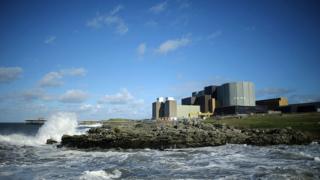 A catalogue of errors in awarding a contract to clean up 12 UK nuclear sites ended up costing the taxpayer £122m, official auditors have found.
The deal to decommission the ageing Magnox sites was originally intended to last 14 years, but was cut short after legal challenges by unsuccessful firms.
Now the National Audit Office has found "fundamental failures" in the way the process was handled by the Nuclear Decommissioning Authority (NDA).
An official inquiry is in progress.
The £6.2bn contract was awarded in 2014 to Cavendish Fluor Partnership, a group headed by UK engineering firm Babcock International.
But if the NDA had applied its selection criteria properly, the winning bid would have been disqualified, the audit office said.
As a result, the losing consortium, made up of Energy Solutions and Bechtel, issued legal claims against the NDA for damages.
Following a High Court ruling in their favour in 2016, the Energy Secretary, Greg Clark, announced in March this year that the contract would end in August 2019, instead of running until 2028.
'Improvements made'
Responding to the report, NDA chief executive David Peattie said: "I would like to apologise for these past mistakes.
"Since taking over earlier this year I have made a number of improvements to the way the NDA operates to provide greater focus, discipline, standardisation and simplification to our work.
"I am committed to doing everything to ensure these mistakes will not be repeated."
---
Which nuclear plants are being decommissioned?
England
Berkeley, Bradwell, Dungeness A, Harwell, Hinkley Point A, Oldbury, Sizewell A, Winfrith
Wales
Trawsfynydd, Wylfa
Scotland
Chapelcross, Hunterston A
---
Apart from the errors in the "flawed" bidding process, there was also "a significant mismatch" between what was specified in the contract and what actually needed to be done, the government admitted.
The NDA agreed to pay Energy Solutions and Bechtel £97.3m to settle their legal claims, while it spent £13.8m on its own legal case and £10.8m on in-house staff time.
A government inquiry headed by former National Grid chief executive, Steve Holliday, was set up in March and is continuing.
"The NDA's fundamental failures in the Magnox contract procurement raise serious questions about its understanding of procurement regulations; its ability to manage large, complex procurements; and why the errors detected by the High Court judgement were not identified earlier," said Amyas Morse, head of the National Audit Office.
"In light of these issues, the department must consider whether its governance and oversight arrangements surrounding the NDA are sufficiently clear and effective in providing the scrutiny and assurance it requires to meet the standards expected in managing public money."
Meg Hillier, who chairs the public accounts committee in the Commons, said the NDA had broken "basic rules of public procurement".
"The NDA was badly mistaken about the work it needed to do on its sites when it let this contract, and has had to cancel it nine years early. It now has to start again from scratch," she said.
"This was one of government's biggest-ever contracts and it has gone wrong on a fundamental level.
"Its failure raises serious questions about the NDA's capability," she added.