Pfizer mulls sale of consumer business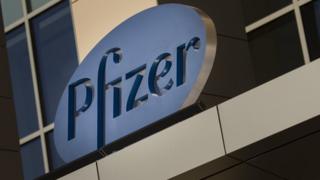 Pharmaceutical giant Pfizer is mulling the sale or spin-off of its consumer health business, a division that includes brands such as Advil, Robitussin and ChapStick.
The company is looking to "maximise value" for shareholders through a possible deal, Pfizer chief executive Ian Read said.
Pfizer's consumer health business had revenues of $3.4bn (£2.6bn) in 2016.
That accounted for about 6% of the firm's total revenue.
Mr Read said the unit's operations were "distinct enough from our core business that there is potential for its value to be more fully realised outside the company".
Options include a partial sale or retaining the division. A final decision is expected in 2018.
Tax question
In August, an analyst who follows the firm asked Mr Read if he would consider a sale of the consumer business.
He said all divisions of the company were subject to periodic review and a decision could depend on whether the US moved forward with tax reform.
US President Donald Trump is pushing for changes to the US tax code, including lowering the corporate rate from 35% to 20% and changing how overseas profits are taxed.
Analysts say the pharmaceutical industry is one of the sectors that could be most affected by the changes.
In August, Mr Read told analysts it was "prudent" to wait to see how the tax changes are implemented before deciding what to do.
Pfizer revenues are down about 2% so far this year.