Walmart leads Dow Jones to fresh record high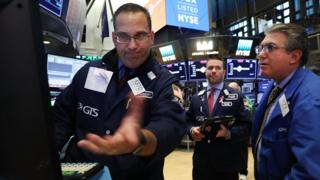 The Dow Jones Industrial Average notched up a fresh record on Tuesday, lifted in part by Walmart, which saw shares jump after it announced plans to buy back $20bn of its shares.
Walmart also said it expects sales growth of about 3% in the year to January 2019.
The Dow rose 69.61 points, or 0.3%, to 22,830.68. The wider S&P 500 rose 5.91 points, or 0.23%, to 2,550.64.
The Nasdaq rose 7.52 points, or 0.11%, to 6,587.25.
Analysts have forecast another strong earnings season. Gains on Tuesday were broad-based, with most sectors higher.
On Tuesday, airlines helped contribute to the market rise, after American Airlines and United shares operations results from September that suggested the firms would see a lower-than-expected hit from recent hurricanes.
The biggest faller on the Dow was United Health group, down 0.8%.