Kobe Steel shares sink as it admits data falsification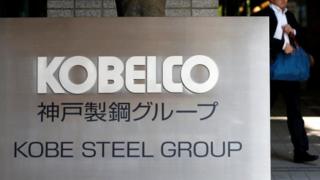 Shares in Kobe Steel dived by more than a fifth after the company admitted falsifying data about the quality of its products.
Japan's third largest steelmaker admitted it had fabricated data about the strength and durability of some aluminium and copper products.
Toyota, Honda and Subaru are among the carmakers to have used products that could be part of the falsification.
Toyota said the materials were used in the hoods and doors of some its cars.
"We are rapidly working to identify which vehicle models might be subject to this situation and what components were used, as well as what effect there might be on individual vehicles," the carmaker said in a statement.
Mitsubishi Heavy Industries, which produces the Mitsubishi Regional Jet passenger plane, is reportedly among the clients affected.
Kobe Steel said the falsified data involved products that were delivered to more than 200 companies.
Shares in the company fell 22% on Tuesday to 1,068 yen (£7.20; $9.50), wiping almost a billion dollars off its market value.
It is not yet clear whether the fabricated information could affect the safety of clients' products.
The Japanese government has told the firm to check for any illegal proceedings that could affect the safety of those products.
Kobe Steel's admission is the latest in a string of misconduct cases involving Japanese manufacturers.
Last week, Nissan Motors announced a recall of more than a million vehicles after admitting that staff without proper certification routinely carried out final inspections for new vehicles to be sold in the domestic market.
And airbag maker Takata went bankrupt after its defective products were linked to 16 deaths and scores of injuries worldwide.