UN bans 4 ships from global ports for violating N Korea sanctions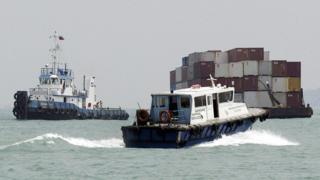 The United Nations has banned four ships from visiting any global port, after they were found to have violated sanctions imposed on North Korea.
Hugh Griffiths, head of a UN panel on North Korean sanctions, said the ships had been "transporting prohibited goods".
He described the move to ban the vessels as unprecedented, reports said.
The UN expanded sanctions on North Korea last month in response to Pyongyang's largest nuclear test yet.
Mr Griffiths said it's the "first time in UN history" that such a ban had been enforced, according to the Associated Press.
"There are four vessels that have been designated by the committee. The designation doesn't mean an assets freeze or travel ban. But it's a port ban," he said on Monday, following a meeting on the enforcement of sanctions on North Korea.
What do we know about the ships?
The banned vessels were reportedly the Petrel 8, Hao Fan 6, Tong San 2 and Jie Shun.
According to the MarineTraffic website, a maritime database that monitors the movement of vessels, Petrel 8 is registered in Comoros, Hao Fan 6 in Saint Kitts and Nevis, and Tong San 2 in North Korea. The registered country of Jie Shun is not listed.
The ban went into effect on 5 October.
What do the sanctions include?
In August, a UN resolution banned exports of coal, seafood and iron ore from North Korea. Sanctions were expanded last month to include the export of textiles and North Korean guest workers, as well as a cap on oil imports.
The tightening of trade restrictions followed Pyongyang's sixth nuclear test and the firing of two missiles over Japan.
The moves are designed to starve the reclusive state of fuel and income for its weapons programmes.
North Korea's main economic partner China has signed up to the measures, along with Russia. Both have previously vetoed harsher sanctions on the secretive state.
Are the sanctions working?
The export of coal, ore and other raw materials to China is one of North Korea's few sources of foreign cash. Estimates say that North Korea exports about $3bn worth of goods each year - and the sanctions could eliminate $1bn of that trade.
However, repeated sanctions have so far failed to deter North Korea from continuing with its nuclear and missile development programmes.
North Korea has hit back against the trade restrictions from the US and others.
"The moves for putting sanctions and pressure on the Democratic People's Republic of Korea will only arouse the Korean people into action and harden their strong will to settle accounts with the US to put an end to the centuries-old confrontation with it," a report in North Korean state media published on Monday said.